The following announcement was written by MyHeritage:
We are pleased to announce the publication of a huge collection of historical U.S. city directories — an effort that has been two years in the making. The collection was produced exclusively by MyHeritage from 25,000 public U.S. city directories published between 1860 and 1960. It comprises 545 million aggregated records that have been consolidated from 1.3 billion records, many of which included similar entries for the same individual. This addition brings the total number of historical records on MyHeritage to 11.9 billion records.
Search the U.S. City Directories
The new city directories collection on MyHeritage is a rich source of information for anyone seeking to learn more about their family in the United States in the mid-19th to mid-20th century. The directories contain valuable insights on everyday American life spanning the time period from the Civil War to the Civil Rights Movement.
What are City Directories?
Cities in the United States have been producing and distributing directories since the 1700s as an up-to-date resource to help residents find local individuals and businesses. City directories typically list names (and spouses), addresses, occupations, and workplaces. Sometimes they include additional information.
Thanks to their level of detail, city directories can provide a viable alternative to U.S. census records during non-census years, as federal censuses are taken once every ten years, and in many cases city directories were published annually. They can also fill in the gaps in situations where census records were lost or destroyed. In 1921, a fire at the U.S. Department of Commerce destroyed most of the records from the 1890 census. Despite the loss of the records in the fire, much of the data can be reconstructed using the 1890 city directories on MyHeritage, which consist of directory books from 344 cities across the country, including 88 of the 100 most populated cities during that year.
Unique processing by MyHeritage
The city directories in this collection were published by thousands of cities and towns all over the U.S., and each directory is formatted differently. The huge amount of content and its variety made the project more challenging and required the development of special technology to process the city directories.
We first used Optical Character Recognition (OCR) to convert the scanned images of the directories into text. This process can result in errors in the output, and we created algorithms to detect and correct some of these errors.
Then, we needed to parse the records to identify the different fields in each record: names, occupations, addresses, and more. The differences in formatting between the books presented an additional challenge. Our team employed methods such as Name Entity Recognition (NER) and Conditional Random Field (CRF) to train an algorithm using a per-book model — meaning that for each of the 25,000 books, we manually labeled a sample of the records and used it to train the algorithm how to parse that directory. Using this model, the algorithm was able to parse the entire book into a structured index of valuable historical information.
In the example below of a city directory record for Ralph McPherran Kiner, an American Major League Baseball player and broadcaster, we see how our system overcame and corrected an OCR error. The incorrect address in the 1957 record is 55801 Yorkshire av, whereas the 1958 and 1960 records list the address as h5801 Yorkshire av, and the "h" implies that Ralph is the homeowner. We inferred that the first "5" in the first record was an OCR error and should actually be an "h", and were therefore able to determine that Ralph lived at the same address during these years.
Consolidating records and creating a searchable index
After all the information was parsed, we consolidated the records in an unprecedented way. We identified records thought to describe the same individual who lived at one particular address over several years, as published in multiple editions of the city directories. We then consolidated all of those entries into one aggregated record that covers a span of years. This reduced "search engine pollution," wherein a search for a person would have returned multiple, very similar entries from successive years, obscuring other records. The aggregation makes it easier to spot career changes, approximate marriage dates, re-marriages, and plausible death dates. To our knowledge, the algorithmic deduction of marriage and death events from city directories is unique to MyHeritage.
In the example below, we consolidated 31(!) records from the years 1912–1959 into a single record. Based on the information collected over the years, it is likely that Alfred and Mary Albert married circa 1914. We were also able to determine that Alfred died circa 1959.
The aggregated record also shows that Alfred changed his profession several times during these years, and he went from being a conductor to a carpenter to a motorman.
This is the power of consolidation: it converts many "dull" records into a single, rich biography that tells a life story!
Examples of challenging problems – and how we solved them
Multiple entries
Many published city directories saved typesetting (which was expensive) and paper by using a symbol to indicate that multiple entries had the same last name, such as ditto marks or dashes. Some entries continued onto a second line, while others occupied only one. The algorithm had to understand the difference between surname text and the text that often appears directly below it.
For instance, in the example below, the record extraction algorithm successfully inferred that Bartsch is a surname and that the ditto mark in the next line also means Bartsch.
The algorithm also determines where a record begins and where it ends. For example, the record below spans one line:
This record, however, spans two lines:
If the algorithm hadn't inferred this, we would have created an additional record for "Waller" and missed identifying it as the street name in the record about Wm F. While this process works very well, there are still some directories in which this type of record extraction is not 100% robust.
Abbreviations
A table of common abbreviations appears at the beginning of each city directory, listing abbreviations for names, occupations, residence status, and addresses that are used throughout the book. The records are often hard to decipher without the use of the abbreviation tables.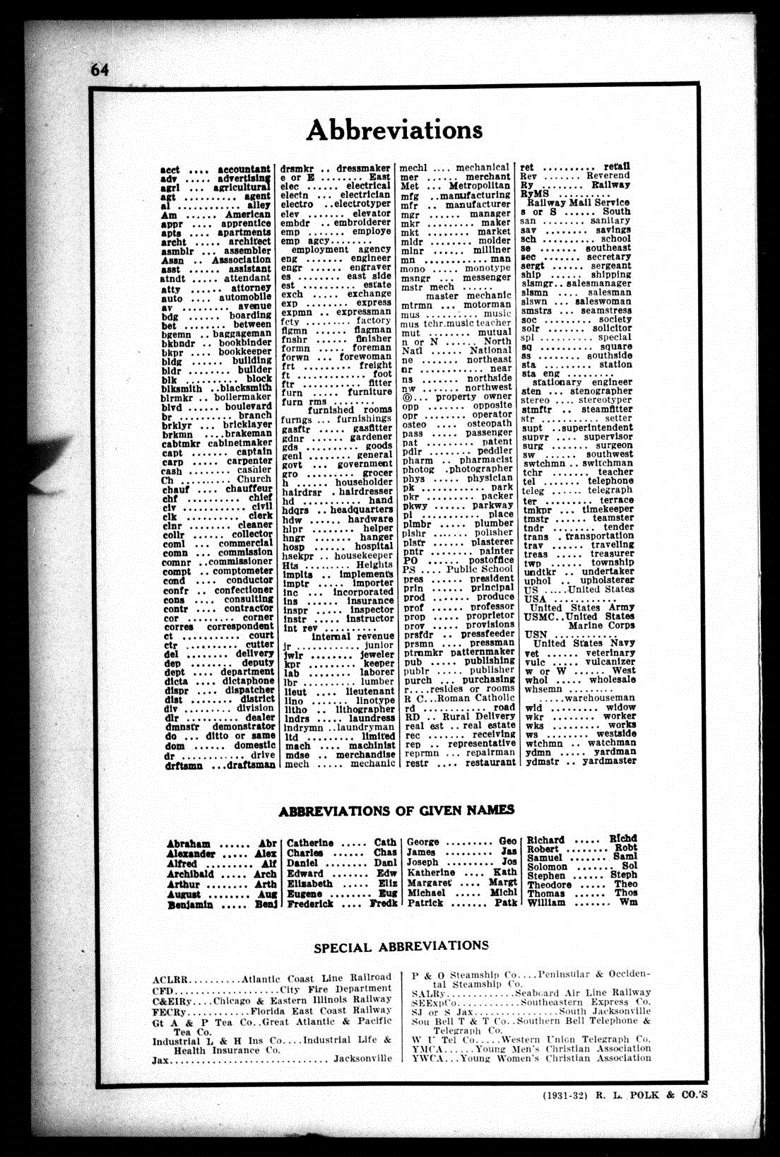 To integrate the abbreviation tables into the collection, we manually keyed in the table from each book and used it to expand the abbreviations in the records.
Our handling of first name abbreviations in this collection is particularly helpful, because if you're searching for a "Patrick", we'll find him for you even in records where he's listed as "Patk", so that you won't have to think about all the possible ways to search for each name – we've got you covered!
In the following example, we've expanded the abbreviations for the occupation sten to stenographer, clk to clerk, the workplace Fla Natl Bank to Florida National Bank, and residence status r to rents. This improves readability and enables searching and matching to family trees with much higher accuracy.
Important insights from the collection
Inferred life events
Consolidated city directory records enabled MyHeritage to automatically infer dates of marriage or death based on changes in the record data.
In the example below, Henry Bennett from Oakland, California most probably got married in late 1923 or early 1924, and the Oakland City Directory from 1924 lists Nancy as his wife. We therefore created a marriage event with Nancy clearly marked as implicit, dated circa 1924.
In the example below, Matthew and Sally Lewin are listed as spouses and reside together at 305 New Scotland Ave in Albany, New York until 1945. In the 1946 listing Sally appears as widowed, so we inferred that Matthew died circa 1946.
Change in homeowner status
Throughout the records we can see if the person living at any address was a renter, denoted by an "r" in most records, if they were a boarder, denoted by a "b", or if they were the homeowner, denoted by an "h".
By following a consolidated record over the years, we could see if someone changed from renting to owning their home at the same address.
In this example, we see that James Thompson was a renter until 1921. Sometime between 1921 and 1923 he became the owner of his residence.
Finding others who lived at the same address
The city directories collection allows users to see who else has lived at the same address. Simply click on "See who else lived at this address" in the record page to run a search by address.
This feature can be useful for locating ancestors, descendants, or other family members of the person you are researching who lived at the same address in other periods. Often multiple generations of a family lived at the same address, or a family home may have been passed on from one generation to the next.
In the following example, James and Glenna Japhet lived at 623 W Olmos Drive in San Antonio, Texas.
When checking to see who else lived at the same address in city directory records, we see that aside from James and Glenna, another person with the last name Japhet is also listed in the directories as having lived at that address: a woman named Laverne Japhet.
 It seems as if Laverne is either James' second wife or the same person as "Glenna L". This opens new avenues for more research.
Cost
Searching the U.S. City Directories is free, but a subscription is required to view the records.
Users with a Data or Complete subscription can view the full records including the high-resolution scans of the original directories, confirm Record Matches, extract information from the record straight to their family trees, and view Related Records for the person appearing in a historical record they are currently viewing.
Summary
The U.S. City Directories collection on MyHeritage is a treasure trove for anyone searching for more information about their ancestors in the United States. We have worked very hard to prepare this collection for our users, and believe it is the smartest online U.S. city directory collection ever made. Over the next few months, we are planning to expand this important collection even further by publishing thousands of additional city directories. This addition will include directories from more cities, and directories published prior to 1860 and after 1960.
Search the U.S. City Directories now
Enjoy!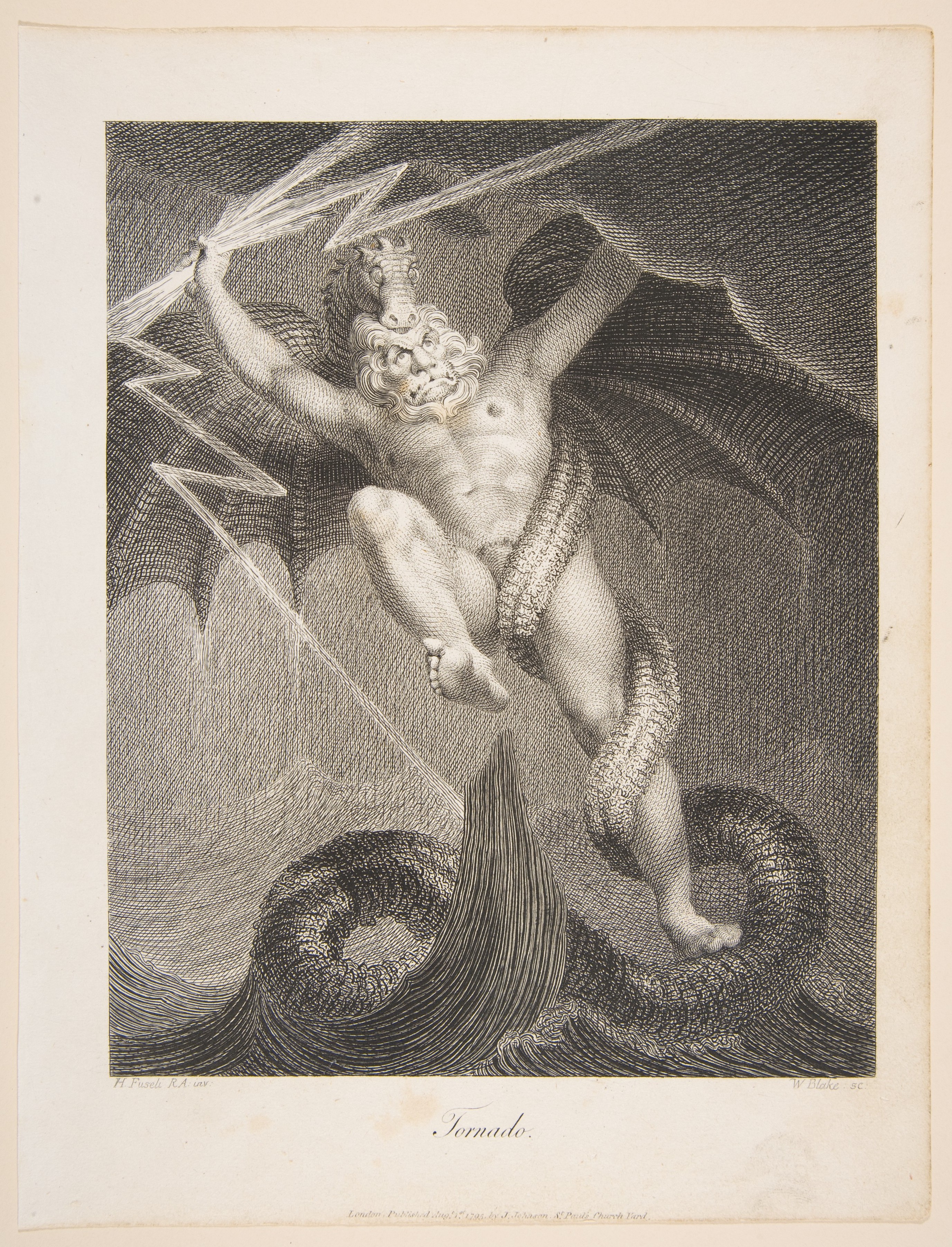 The 1784 Connecticut Courant report about Isaac Johnson having the bodies of his children dug up, hoping to save other members of his family from consumption, didn't use the word "vampire."
Two years before, the Connecticut poet John Trumbull had used that word in the fourth canto of M'Fingal while discussing British prison commissary Joshua Loring:
Aloft the mighty Loring stood,
And thriv'd like Vampyre on their blood.
But Trumbull also included a footnoted explanation for his readers:
The notion of Vampyres is a superstition, that has greatly prevailed in many parts of Europe. They pretend it is a dead body, which rises out of its grave in the night, and sucks the blood of the living.
Clearly the concept of vampires wasn't yet common knowledge for Americans, even those who read satirical poetry.
The word "vampire" appeared more often in American newspapers during the following decades. One source was European literature. In 1786, for example, the French author Louis-Sébastien Mercier published a collection titled Mon Bonnet de nuit, soon translated into English as The Nightcap.
On 24 Nov 1787 the Pennsylvania Evening-Post published one piece by Mercier called "Opulence: A Vision." Its narrator described obtaining the philosopher's stone, which leads to wealth and a pretty young wife. Then, when everything seems to be going well—
a crowd of Vampires entered the room, and began to unfurnish my apartment. In vain did I make signs to them to desist; they carried every thing away, making many low bows. . . .

Then I turned to my dearly beloved, and, in the effusion of my soul, said to her, "The Vampires have stripped me of all I had; but still I have thee." She wept—I thought it proceeded from tenderness; but my wife so mild, so open, sprang from my arms, ran over the apartment with the looks and gesture of a fury, and, seeing it was stript, seized on a purse the Vampires had forgot in one of my waistcoat pockets, came to me, and, applying a vigorous stroke to my cheek, disappeared.

Stunned with this scene, I got up in bed, in order to run after my wife, for I loved her. I had grown fat from living well; but a little Vampire, thinner still than the others, sprang upon me, and began to suck me alive. He swelled on my body as I grew lank; he dried me up from head to foot, gorging himself with my blood, and I became so light, that the wind carried me off my magnificent bed with rich curtains through the window.
(Spoiler: It was all a dream.)
American newspapers also printed extracts from Dr. Erasmus Darwin's Botanic Garden (composed 1789-1793), which made a poetic hero of Benjamin Franklin and included such lines as this:
So, born on sounding pinions to the West,
When Tyrant-Power had built his eagle nest;
While from his eyry shriek'd the famish'd brood,
Clenched their sharp claws, and champ'd their beaks for blood,
Immortal FRANKLIN watch'd the callow crew,
And stabb'd the struggling Vampires, ere they flew.
Darwin used vampires, sucking blood from innocents, as a political metaphor. American authors couldn't resist doing the same:
Joel Barlow: "Courts and Kings, / These are the vampires nurs'd on nature's spoils" (Gazette of the United States, 14 July 1792)
"The Versifier": "You'll foil that Treasury Vampire who from spite, / Sucks from our coin its blood night after night" (Connecticut Courant, 4 Feb 1793)
The word appeared in prose as well, such as this line from the 7 Mar 1800 Salem Gazette: "AMERICANS—Will you permit a few Democratic Vampires, which infect the United States, to lull you into a state of slumbering security, that they may suck the dearest blood of your country?"
In fact, one of the earliest uses of "vampires" as a political metaphor in English had a link to the American Revolution. It appeared during debate over how Parliament should respond to the Boston Tea Party in April 1774, as reported in London newspapers and eventually the 9 June 1774 Massachusetts Spy:
Mr. [Edmund] Burke rose to explain, that he did not mean to cast the least slur upon the character of Mr. [George] Grenville; and concluded with saying, he would not raise the bodies of the dead, to make them vampires to suck out the virtues of the living.
That line isn't as well remembered as the two-hour speech Burke had given earlier that day, usually titled "On American Taxation." But it shows how the idea of vampires had penetrated British culture on its way to America.
Of course, poets and propagandists could write about vampires without believing that they actually existed. And New England farmers didn't need to know the word "vampire" to hold out hope that digging up bodies and burning those that seemed too well preserved might cure the dying. But as the word became more common in the 1800s, the belief might have spread along with it.
Four million. It's staggering, really. AncestryDNA has exceeded four million samples in its DNA database!
It took AncestryDNA three years to get the first million samples. (See "AncestryDNA Exceeds Million Mark" on my blog on 22 July 2015.)
It took them 11 months to reach two million. (See "AncestryDNA Database Reaches Two Million" on 28 June 2016.)
It took just seven months to get to the three million mark. (See "AncestryDNA Zips Past 3 Million Samples" on 19 January 2017.)
Less than 4 months later, AncestryDNA has reached four million persons in the DNA database. (See "AncestryDNA Reaches 4 Million Customers in DNA Database" on the Ancestry blog, 27 April 2017.) AncestryDNA must be selling over 8,000 kits a day to grow that fast. Ancestry says as many people took their DNA test during that period as got married in the United States. They said "that's about as fast as babies are born in the United States."
That's astonishing.
The following announcement was written by the folks at FamilySearch:
FamilySearch added new, free, historical records this week from Colombia, France, Italy, New Zealand, Peru, and the United States, including Florida, Georgia, Iowa, Michigan, Missouri, North Carolina, Utah, Virginia, and Wyoming.
Search these new records and images by clicking on the collection links below, or go to FamilySearch to search over 8 billion free names and record images.
| | | | | |
| --- | --- | --- | --- | --- |
| Country | Collection | Indexed Records | Digital Images | Comments |
| Colombia | | 0 | 103,792 | Added images to an existing collection |
| France | | 3,651 | 0 | Added indexed records to an existing collection |
| Italy | Italy, Pesaro e Urbino, Urbino, Civil Registration (State Archive), 1866-1942 | 5,691 | 0 | Added indexed records to an existing collection |
| New Zealand | | 11,374 | 0 | Added indexed records to an existing collection |
| Peru | | 195,778 | 0 | Added indexed records to an existing collection |
| United States | | 137 | 0 | Added indexed records to an existing collection |
| United States | | 1,510 | 0 | Added indexed records to an existing collection |
| United States | | 11,739 | 0 | Added indexed records to an existing collection |
| United States | Michigan, Census of World War I Veterans with Card Index, 1917-1919 | 277,245 | 0 | New indexed records collection |
| United States | Missouri, County Marriage, Naturalization, and Court Records, 1800-1991 | 0 | 623 | Added images to an existing collection |
| United States | | 13 | 0 | Added indexed records to an existing collection |
| United States | | 187 | 0 | Added indexed records to an existing collection |
| United States | Utah, World War I County Draft Board Registers, Name Index, 1917-1918 | 137,805 | 0 | New indexed records collection |
| United States | | 6,496 | 0 | New indexed records collection |
| United States | Virginia, Petersburg, Gillfield Baptist Church Record, 1827-1906 | 168 | 0 | Added indexed records to an existing collection |
| United States | Wyoming, Reclaim the Records, State Archives Vital Records, 1908-1966 | 297,595 | 0 | New indexed records collection |
About FamilySearch
FamilySearch International is the largest genealogy organization in the world. FamilySearch is a nonprofit, volunteer-driven organization sponsored by The Church of Jesus Christ of Latter-day Saints. Millions of people use FamilySearch records, resources, and services to learn more about their family history. To help in this great pursuit, FamilySearch and its predecessors have been actively gathering, preserving, and sharing genealogical records worldwide for over 100 years. Patrons may access FamilySearch services and resources free online at FamilySearch.org or through over 5,000 family history centers in 129 countries, including the main Family History Library in Salt Lake City, Utah.
NEW RESOURCES
Pet Food Processing: AAFCO streamlines labeling process with new ingredient database. "Since 1934, AAFCO [Association of American Feed Control Officials] has annually published what it calls the Official Publication (OP), a thick book containing hundreds of ingredients used in feed and pet food that are recommended for approval by state regulators. To bring the document into the 21st century, AAFCO members and industry experts created the Online Database of Ingredients (ODI), nicknamed 'Oh-Dee,' which is essentially a digital version of the OP hosted on the AAFCO Feed Basic Informational Network (BIN)."
VG 24/7: Noclip is a neat new website that lets you freely explore datamined maps from classic games . "Noclip is essentially a depository of datamined world assets from games. The website features all of Super Mario 64's maps, for instance, so I can hop into any area from the DS version of that classic and zoom around with a free camera, viewing it from any angle including those impossible in-game. It's a super cool idea, honestly, allowing you to look at iconic locations from a new angle and also in a way see how they were created in the first place." There aren't tons of games on here yet, but I love the idea. The temptation to spend hours wandering around Mario Kart maps is strong.
TWEAKS AND UPDATES
CNN: Facebook restores Russia-linked pages, but is still figuring out what to do about state-backed media . "Facebook said Monday that it would allow a network of millennial-focused pages tied to the Russian state-backed media outlet RT back on its platform after having previously suspended them following inquiries by CNN."
USEFUL STUFF
Free Technology for Teachers: How to Use Your Own VR Tours in Google Expeditions. "Google's VR Tour Creator is probably my favorite new tool of the last year. I love being able to make my own virtual reality tours and share them with others. Recently, Google added support for VR Tour Creator tours to the Android version of Google Expeditions. This means that you can create your own VR tour then play it back and share it in Google Expeditions. You can even lead other people on your tour through Google Expeditions. In the following video I demonstrate how to use your VR Tour Creator tours in Google Expeditions." There are two more videos embedded in the article.
AROUND THE SEARCH AND SOCIAL MEDIA WORLD
Respect: Black Veterans Project Campaign Launch. "The Black Veterans Project (BVP), a veteran-led, multi-organizational startup, today announced the official launch of their IndieGoGo campaign to raise funds for a full-length documentary recounting the experiences of current and former Black servicemembers, from the Vietnam War to present-day conflicts in Iraq and Afghanistan. Co-founded by veterans Kyle Bibby and Richard Brookshire, BVP has a mission to preserve the legacy of the 2.5 million Black veterans living in the United States. Through the creation of a full-length documentary and digital archive of oral histories of Black veterans from all walks of life, BVP hopes to raise awareness of racial justice issues in the military and post-service."
Ars Technica: Suicide instructions spliced into kids' cartoons on YouTube and YouTube Kids. "Tips for committing suicide are appearing in children's cartoons on YouTube and the YouTube Kids app. The sinister content was first flagged by doctors on the pediatrician-run parenting blog pedimom.com and later reported by the Washington Post. An anonymous 'physician mother' initially spotted the content while watching cartoons with her son on YouTube Kids as a distraction while he had a nosebleed. Four minutes and forty-five seconds into a video, the cartoon cut away to a clip of a man, who many readers have pointed out resembles Internet personality Joji (formerly Filthy Frank). He walks onto the screen and simulates cutting his wrist. 'Remember, kids, sideways for attention, longways for results,' he says and then walks off screen. The video then quickly flips back to the cartoon."
Washington Post: U.S. Cyber Command operation disrupted Internet access of Russian troll factory on day of 2018 midterms. "The U.S. military blocked Internet access to an infamous Russian entity seeking to sow discord among Americans during the 2018 midterms, several U.S. officials said, a warning that the Kremlin's operations against the United States are not cost-free. The strike on the Internet Research Agency in St. Petersburg, a company underwritten by an oligarch close to President Vladi­mir Putin, was part of the first offensive cyber campaign against Russia designed to thwart attempts to interfere with a U.S. election, the officials said."
SECURITY & LEGAL
Bleeping Computer: Office 365 Phishing Page Comes with Live Chat Support. "Scammers handling a phishing website for Office 365 credentials added live support to add to the illusion of legitimacy necessary to trick victims. But things don't always work the way the cybercriminals intend and their bluff was called by security researchers spotting the scam a mile away."
RESEARCH & OPINION
NewsWise: New Method Uses AI to Screen for Fetal Alcohol Spectrum Disorder. "Scientists at the University of Southern California (USC), Queen's University (Ontario) and Duke University have developed a new tool that can screen children for fetal alcohol spectrum disorder (FASD) quickly and affordably, making it accessible to more children in remote locations worldwide." Good morning, Internet…
Do you like ResearchBuzz? Does it help you out? Please consider supporting it on Patreon. Not interested in commitment? Perhaps you'd buy me an iced tea. I love your comments, I love your site suggestions, and I love you. Feel free to comment on the blog, or @ResearchBuzz on Twitter. Thanks!