Personal finance and politics intersected for the Speakman family and their neighbors in the summer of 1770.
As I started to discuss back here, Thomas Speakman acquired property in Marlborough before being killed on the Lake Champlain battlefront in 1757.
His widow Mary was living in that town in the late 1760s, and their son William (Billy) apparently moved out there after a health scare in late 1768.
By that time both mother and son had become attached to Whig politics, even though they were upper-class Anglicans, a group more likely to side with the Crown. That irked Mary Speakman's Loyalist friend and neighbor Christian Barnes, who nonetheless concluded that the widow was not acting "from any Self interested Motives."
In those years the family's second son, Gilbert Warner Speakman, was in Boston working for his uncle, merchant John Rowe. But that young man, called Gibby or Gib by his family, came of age in 1768 and needed to establish himself independently in some way.
In the same long letter from the summer of 1770 that I quoted about political disturbances in Marlborough, Christian Barnes wrote in late June:
Mrs. Speakman went to Boston last week and Mr. Rowe ask'd her what she intended to to [sic] do with Gibby for he had no longer any ocation for him and could not afford to pay him wages

She told him her last resort was New Boston [New Hampshire, where the family had invested in land] and if she could be put into business there she should like to take her whole family with her,

he made no reply to this and she return'd from Boston in very low Spirits but last Night she received a letter from Gibby informing her that his uncles Row & [Ralph] Inman had agree'd he should go to New Boston with goods and there make Pearl & Pott Ash
Christian Barnes's husband Henry happened to own a potash manufactory in Marlborough. To be sure, that building had recently had its windows smashed, and a rumor was going around town that Billy Speakman was sparking such vandalism to get Henry to finally adhere to non-importation. But that didn't stop Gibby from asking his mother's neighbor for advice:
he sent to Mr. Barnes for an estimate of the Cost of the Works and desires to know if this is a proper Season to cut down Timber to build a House

you see these are all things at a distance and may possibly blow off in Air However it has given Mrs. Speakman new Spirits
That month, two effigies of her husband, a threatening letter, and news of attacks on other Loyalists made Christian Barnes increasingly anxious. And then came a small-town betrayal.
Christian Barnes's 13 July letter reported that Mary Speakman was preparing for her son to go into business in competition with Henry Barnes. The people of Marlborough would no longer have to buy general goods from an importer or travel to another town. Political, commercial, and personal factors were intertwining as Christian Barnes wrote of the rift between the families:
even Mrs. Speakman has deserted me, and takeing the advantage of our distress'd situation has made aplication to Mr. Row and he has consented to send up Gibby and open a Store at her House and he is now actuly here makeing preparation for the reception of his goods[.] he has brought his Mistress with him and they have past a Week in the greatest Mirth and festivity.

The only excuse they have to make for this ungreatfull proceeding is that as Mr. Barnes has advertized his Estate for Sail but whatever Motive Mr. Barnes might have for advertizeing his Place Mrs. Speakman has told me more than twenty times that she was convinced he has no intention of leaving Marlborough, so you see what the New Boston Scheem is come to but it must end in that finily, or something worse for I am well assured that a Store of Good put into their hands and by Mr. Row must prove their distruction, and at the same time will be injuring us to such a degree as I think ought not to be forgiven.
By this point Christian Barnes had dropped all her skepticism about the Speakman brothers encouraging the attacks on her husband. "I know they have both been very active in all the riots in Boston and they may Posibly find some dareing Sons of Violence who may be willing to assist them in any interprize they shall propose."
To get away from the local unrest, Barnes went to stay with friends. On 17 September she described developments she found on coming back home:
when I returned from Cambridge (after an absense of five Weeks) I found the Peoples Minds were more composed[.] a Party had apear'd in our favor and some of them had Publicly declared they would act in opposition to any one that should molest us

they remain'd quiet till the time approach'd for takeing out our licence [to sell liquor.] Mr. Barnes then waited on the Select Men for their approbation but was refused

Mrs. Speakman (who is still determin'd to circumvent us in our trade if possible) had no doubt but she should obtain it but she did not gain her Point and Mr. Barnes put in a Petition to the Court which was then siting at Concord and they very readily granted him a license tho there was great opposition made by some People in the Town who were at the expence of feeing a Lawyer upon the ocation

they now begin to make it a party affair among themselves and the Tory Party (as they are call'd) talk of erecting fire Works by way of triumph upon our gaining the licence
Soon, however, the non-importation controversy settled down. Gib Speakman opened a tannery instead of directly competing with Henry Barnes.
Of course, the larger political issues remained unresolved.
TOMORROW: When war came.
[The picture above is an eighteenth-century engraving of a potash kiln, courtesy of the Wellcome Collection.]
Don Hagist, author of British Soldiers, American War and editor of the Journal of the American Revolution, is my go-to advisor on British military records.

Every so often Don unearths a new gem of information about redcoats who served in Massachusetts, such as the record of Edward Montgomery and Mathew Kilroy, the two privates convicted of manslaughter after the Boston Massacre, retiring in 1776 just before the 29th Regiment was sent back to North America.

Now as a guest blogger Don shares another new discovery about a soldier prominent in Boston 250 years ago: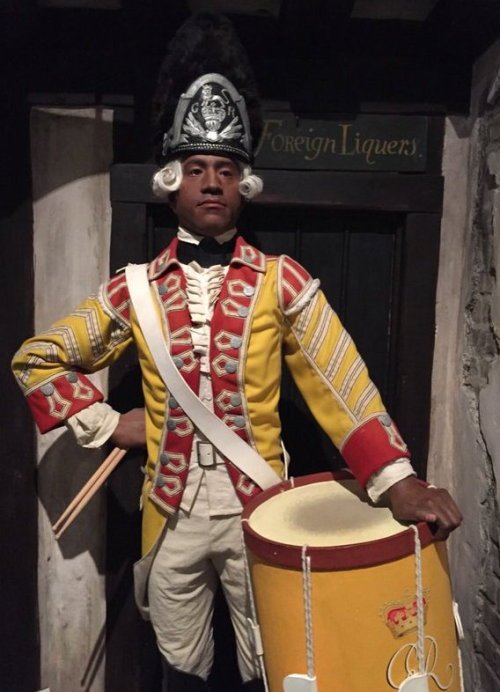 In the months leading up to the Boston Massacre, a number of altercations occurred between soldiers of the 14th and 29th Regiments of Foot and civilians in Boston. One of the best-known soldiers involved in these scuffles was Thomas Walker, a drummer in the 29th Regiment.
The 29th's drummers were of African heritage, but those those whose place of birth is known were born in the Caribbean—Jamaica, St. Kitts, St. Domingo, Antigua. The first of them joined the regiment in 1759 and were replaced by others as attrition demanded, well into the nineteenth century.
The earliest surviving muster rolls for the regiment indicate that Walker was already serving as a drummer in 1765. He was a key player in the fighting that occurred at the ropewalks in Boston on March 1, 1770. He is frequently mentioned in this context, but what about his subsequent career?
The 29th Regiment was removed from Boston soon after the events of March 5, 1770, and after a few more years in other American colonies they returned to Great Britain. Their stay in the home islands was not long, though; the outbreak of war in American necessitated a significant military buildup there, and in early 1776 the 29th Regiment was ordered overseas once more.
As a drummer in the regiment's grenadier company, Walker may have been among the first ashore when the regiment landed in Quebec in June 1776 to relieve the besieged city. With several other regiments, they drove American forces out of Canada and up Lake Champlain. Walker may have been among the 29th's soldiers that served on board British ships and gunboats at the battle of Valcour Island in October.
After spending a cold Canadian winter dispersed in various locations between Quebec and the northern end of Lake Champlain, the British army regrouped for a new campaign in 1777. While most of the 29th Regiment remained in Canada, their light infantry company and grenadier company, including Thomas Walker, went with the army under General John Burgoyne up Lake Champlain. The grenadier battalion, formed of grenadier companies from ten regiments, was involved in some of the campaign's hottest fighting including the battles of Hubbardton, Freeman's Farm and Bemis Heights. The campaign ground to a halt in October and Burgoyne's army capitulated in October. Thomas Walker became a prisoner of war.
The prisoners were marched to the outskirts of Boston where they spent the winter in crude barracks on Winter Hill and Prospect Hill. From here Walker had a good view of the city where he had spent two years almost a decade before. The following summer the prisoners were moved inland to Rutland, Massachusetts. In November they were marched Albemarle, Virginia, where they arrived in the January snow for two more years in poorly-constructed barracks.
British campaigning in Virginia in 1781 provoked yet another overland march for the beleaguered prisoners, this time to Lancaster, Pennsylvania. The prisoners arrived there on June 16. Since their capture in 1777, they had walked over 1,000 miles from prison camp to prison camp. By this time, only four men of the 29th Regiment's grenadier company remained, the others having escaped, deserted, or died.
Thomas Walker got to Lancaster, but his time had run out; by the time a list was made of the prisoners, on July 18, Drummer Thomas Walker was "dead in the Barracks." The cause of his demise is not known. Dying in captivity was a sad end for a man who had served as a soldier for over sixteen years.
I'm struck by how Drummer Walker remained with his dwindling company, not escaping and deserting. As a black man, he may have seen fewer opportunities to move around in American society. And he may have commanded more respect as an army drummer than he expected as an unattached black laborer.

Thanks again, Don!