NEW RESOURCES
PLOS Collections: Introducing Project SOAR's HIV Implementation Science Research Collection: Timely Evidence to Guide the HIV Response. "In the newly launched PLOS Special Collection 'Project SOAR: robust evidence to improve the global HIV response', the published and forthcoming papers present SOAR studies conducted in sub-Saharan Africa that evaluated innovative service delivery approaches, modeled their cost and impact, and elucidated social barriers to care such as gender and stigma. The Collection also focuses on the effects of recent changes in policy and discourse on mitigating the HIV epidemic in a variety of settings, including the adoption of 'Treat All' guidelines, reallocation of financial resources based on geographic and population HIV prevalence, and increased attention to men, adolescent girls, and young women."
FiLiA: Frauenkultur: A New Online Archive Of Second Wave Feminist Book Titles. "Frauenkultur is a comprehensive online resource archive for second wave feminist texts written between 1965-1995. The archive is meant to act as a central hub, for young women and girls especially, to discover the range and multiplicity of second wave feminist writing and to create intergenerational linkages with women's work of the past. While the actual texts are not available on the archive, there is plenty of information for each book entry such as a summary, quotes, sometimes images and table of contents."
New-to-me, from Matador Network: How the EatOkra app helps diners 'be aware and intentional' of who they support . "The database — which currently lists 2,600 Black-owned restaurants, bakeries, cafes, food trucks, bars and wineries — is on the verge of a major expansion. Around 5,000 new businesses have reached out to Edwards since June 1, requesting to be added to the EatOkra directory."
TWEAKS AND UPDATES
World Pipelines: EIA's liquids pipeline database details US infrastructure changes in 10 years. "On 4 June the US Energy Information Administration (EIA) updated its Liquids Pipeline Projects Database, which includes a summary of more than 225 liquids pipeline projects in the United States and pipeline projects that cross into Mexico and Canada that are planned, under construction, on hold, or have been completed since 2010."
USEFUL STUFF
MakeUseOf: 6 Awesome Free Twitter Tools to Discover Insights, Analytics, and Shortcuts. "Twitter is all about an avalanche of the latest and greatest posts, but you can't easily find the top posts by a user, nor easily spot viral threads worth reading. These free Twitter web apps reduce the noise on the social network and help you find better content that's worth your time."
AROUND THE SEARCH AND SOCIAL MEDIA WORLD
Atlanta Black Star: How Social Media Users Forced Quaker to Retire Its Racist Aunt Jemima Brand . "R&B singer Kirby Lauryen, who posts to TikTok and Twitter as @singkirbysing, first drew attention this week to the racial stereotypes associated with the Aunt Jemima brand in a video post Monday instructing viewers on 'How to make a non-racist breakfast.' Kirby's TikTok video, which has been viewed more than one million times, explains how the Aunt Jemima image originated from racist stereotypes of Black women."
Mashable: Google, Twitter, and Amazon condemn Trump's anti-immigration order. "Late Monday afternoon, the White House issued a proclamation, signed by the president, stating that the administration's restrictive April visa policy — issued in response to the coronavirus — would be extended through the end of the year. As a result, Google, Twitter, and Amazon have all issued varying statements condemning the administration's move."
SECURITY & LEGAL
Balkan Transitional Justice: Burden of Proof: Inside Bosnia's War Trial Case Archives. "Bosnia's state court is rapidly running out of space for its ever-growing multitude of documents and evidence from war crimes trials, while the lack of an online archive is hampering lawyers and impeding public access to information."
Techdirt: Appeals Court Says California's IMDb-Targeting 'Ageism' Law Is Unconstitutional. "The state of California has lost again in its attempt to punish IMDb (the Internet Movie Database) — and IMDb alone — for ageism perpetrated by [checks notes] movie studios who seem to refuse to cast actresses above a certain age in choice roles."
RESEARCH & OPINION
The Guardian: Experts call for regulation after latest botched art restoration in Spain. "Conservation experts in Spain have called for a tightening of the laws covering restoration work after a copy of a famous painting by the baroque artist Bartolomé Esteban Murillo became the latest in a long line of artworks to suffer a damaging and disfiguring repair." Good afternoon, Internet…
Do you like ResearchBuzz? Does it help you out? Please consider supporting it on Patreon. Not interested in commitment? Perhaps you'd buy me an iced tea. I love your comments, I love your site suggestions, and I love you. Feel free to comment on the blog, or @ResearchBuzz on Twitter. Thanks!
Don Hagist, author of British Soldiers, American War and editor of the Journal of the American Revolution, is my go-to advisor on British military records.

Every so often Don unearths a new gem of information about redcoats who served in Massachusetts, such as the record of Edward Montgomery and Mathew Kilroy, the two privates convicted of manslaughter after the Boston Massacre, retiring in 1776 just before the 29th Regiment was sent back to North America.

Now as a guest blogger Don shares another new discovery about a soldier prominent in Boston 250 years ago: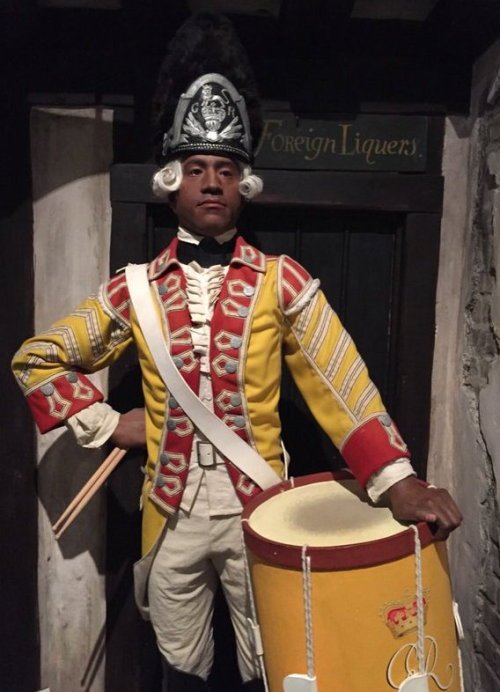 In the months leading up to the Boston Massacre, a number of altercations occurred between soldiers of the 14th and 29th Regiments of Foot and civilians in Boston. One of the best-known soldiers involved in these scuffles was Thomas Walker, a drummer in the 29th Regiment.
The 29th's drummers were of African heritage, but those those whose place of birth is known were born in the Caribbean—Jamaica, St. Kitts, St. Domingo, Antigua. The first of them joined the regiment in 1759 and were replaced by others as attrition demanded, well into the nineteenth century.
The earliest surviving muster rolls for the regiment indicate that Walker was already serving as a drummer in 1765. He was a key player in the fighting that occurred at the ropewalks in Boston on March 1, 1770. He is frequently mentioned in this context, but what about his subsequent career?
The 29th Regiment was removed from Boston soon after the events of March 5, 1770, and after a few more years in other American colonies they returned to Great Britain. Their stay in the home islands was not long, though; the outbreak of war in American necessitated a significant military buildup there, and in early 1776 the 29th Regiment was ordered overseas once more.
As a drummer in the regiment's grenadier company, Walker may have been among the first ashore when the regiment landed in Quebec in June 1776 to relieve the besieged city. With several other regiments, they drove American forces out of Canada and up Lake Champlain. Walker may have been among the 29th's soldiers that served on board British ships and gunboats at the battle of Valcour Island in October.
After spending a cold Canadian winter dispersed in various locations between Quebec and the northern end of Lake Champlain, the British army regrouped for a new campaign in 1777. While most of the 29th Regiment remained in Canada, their light infantry company and grenadier company, including Thomas Walker, went with the army under General John Burgoyne up Lake Champlain. The grenadier battalion, formed of grenadier companies from ten regiments, was involved in some of the campaign's hottest fighting including the battles of Hubbardton, Freeman's Farm and Bemis Heights. The campaign ground to a halt in October and Burgoyne's army capitulated in October. Thomas Walker became a prisoner of war.
The prisoners were marched to the outskirts of Boston where they spent the winter in crude barracks on Winter Hill and Prospect Hill. From here Walker had a good view of the city where he had spent two years almost a decade before. The following summer the prisoners were moved inland to Rutland, Massachusetts. In November they were marched Albemarle, Virginia, where they arrived in the January snow for two more years in poorly-constructed barracks.
British campaigning in Virginia in 1781 provoked yet another overland march for the beleaguered prisoners, this time to Lancaster, Pennsylvania. The prisoners arrived there on June 16. Since their capture in 1777, they had walked over 1,000 miles from prison camp to prison camp. By this time, only four men of the 29th Regiment's grenadier company remained, the others having escaped, deserted, or died.
Thomas Walker got to Lancaster, but his time had run out; by the time a list was made of the prisoners, on July 18, Drummer Thomas Walker was "dead in the Barracks." The cause of his demise is not known. Dying in captivity was a sad end for a man who had served as a soldier for over sixteen years.
I'm struck by how Drummer Walker remained with his dwindling company, not escaping and deserting. As a black man, he may have seen fewer opportunities to move around in American society. And he may have commanded more respect as an army drummer than he expected as an unattached black laborer.

Thanks again, Don!

The article Ancestry® Unveils More than 225 New Communities for Members Who Have Ties into France, Canada, the Uk, Australia, and New Zealand appeared on Ancestry Blog.
In Ancestry®we leverage the most recent cutting-edge DNA technology and science to supply detailed historic insights that enable you to find more about your family's sources. Now, we published over 225 fresh AncestryDNA® communities that will assist our members that have ties to France, Canada, the Uk, Australia, and New Zealand, enabling them to unlock Read
FamilySearch issued an update a few days ago to their list of records recently added. However, due to my travel schedule, I didn't see the update until today. The following was written by FamilySearch:
FamilySearch added new, free, indexed historical records this week from the United States: Connecticut, Georgia, Iowa, Louisiana, Michigan, North Carolina, Ohio, Border Crossings from Canada to the United States, and fromBillion Graves Index.  
Search these new records and images by clicking on the collection links below, or go to FamilySearch to search over 8 billion free names and record images.
| | | | | |
| --- | --- | --- | --- | --- |
| Country | Collection | Indexed Records | Digital Images | Comments |
| Other | BillionGraves Index | 168,465 | 168,465 | Added indexed records and images to an existing collection |
| United States | Connecticut, World War I, Military Census of Nurses, 1917 | 132 | 0 | Added indexed records to an existing collection |
| United States | Georgia, World War I, Statement of Service Cards, 1920-1929 | 4,010 | 0 | Added indexed records to an existing collection |
| United States | Iowa, Birth Records, 1921-1942 | 301,429 | 0 | Added indexed records to an existing collection |
| United States | Iowa, Records of Persons Subject to Military Duty, 1862-1910 | 282,786 | 0 | Added indexed records to an existing collection |
| United States | Louisiana, Ascension Parish, Index of Marriages, 1773-1963 | 39,835 | 0 | Added indexed records to an existing collection |
| United States | Michigan, County Births, 1867-1917 | 104 | 0 | Added indexed records to an existing collection |
| United States | North Carolina, Davidson County Vital Records, 1867-2006 | 646 | 0 | Added indexed records to an existing collection |
| United States | Ohio, Summit County, Coroner Inquests, Hospital and Cemetery Records, 1882-1949 | 11,858 | 0 | Added indexed records to an existing collection |
| United States | Ohio, World War I Statement of Service Cards, 1914-1919 | 30,425 | 0 | New indexed records collection |
| United States | United States, Border Crossings from Canada to United States, 1894-1954 | 10,297 | 0 | Added indexed records to an existing collection |
About FamilySearch
FamilySearch International is the largest genealogy organization in the world. FamilySearch is a nonprofit, volunteer-driven organization sponsored by The Church of Jesus Christ of Latter-day Saints. Millions of people use FamilySearch records, resources, and services to learn more about their family history. To help in this great pursuit, FamilySearch and its predecessors have been actively gathering, preserving, and sharing genealogical records worldwide for over 100 years. Patrons may access FamilySearch services and resources free online at FamilySearch.org or through over 5,000 family history centers in 129 countries, including the main Family History Library in Salt Lake City, Utah.
Tips on Choosing the Best Genealogy Testing Company in Canada
People who are living in Canada should educate themselves regarding the basics of DNA (deoxyribonucleic acid) and genetic genealogy fundamentals if they wanted to know their family history.
However, the easiest way to do it is to test their DNA before starting their DNA research. Therefore, it is necessary to choose the right DNA testing company.
1.Know the person who will take charge of your DNA testing. Keep in mind that the DNA or genetic picture is a portion of you. You need to asses their expertise and professionalism when administering and handling your DNA sample. You should not gamble such test because the success of your genealogy research depends on it.
2.Learn if the company is following the set standard associated with genealogy research. This is important when comparing results from one testing company to another. You should be aware that the new industry or new technology is lacking the conformability and standards among competing organizations. This is because the early DNA testing promoters were only quick in selling without any concern to adhere to the industry's standards.
3.Ask the company about the markers they are using. The markers or loci can be chosen from mutation rates, reproducibility, and variability in populations. The procedure that is very challenging in genealogical studies is to find a locus having a better mutation rates. Variability is needed so that every male who undergoes the same tests would not acquire the same value.
4.Make sure that the results are reliable. The samples that are processed in the company's laboratory should be tested in duplicates. Likewise, be processed by batches. Every processed specimen should be independently reviewed by bio-analysts. Duplication testing is done to ensure the procedure's integrity. As much as possible, the company uses negative test and multiple positive controls to maintain the validity of results. Choose a company who considers your DNA tests a very important procedure in your life.
5.The company's DNA laboratory must be internationally accredited of ISO (International Organization for Standardization) 17025 in connections with all services on human identification and AABB (American Association of Blood Banks) for testing parentage. This is to ensure that the testing process of your DNA is done with great precautions. Thus, contaminations are always prevented.
When you choose an accredited DNA laboratory in connection with the internal control system, it ensures that the DNA testing as well as analysis is performed under an international recognized DNA laboratory protocols. This can give you more reliable and accurate results.
6.Make sure that the testing company can discuss your DNA results clearly. All the resources and important tools are provided to properly assess genetic results. Moreover, the company has a genealogy specialist who is ready to assist and answer your questions regarding your genealogical pursuits. Consulting services for genetics and professional research is also present.
7.Online resources which focus on database matching, status tracking, surname search, and others are also accessible from the company. This helps project coordinators track, organize, interpret, and grow from their projects.
Now, any Canadian can fulfill their task of finding their family history. A dream come true for them.
If you want to find out about your relatives who lived in Canada in the years 1901 or 1911 the Automated Genealogy website is for you. This particular website contains comprehensive information about people who lived in Canada during the years 1901 and 1911.
A lot of people who have Canadian ancestry are curious about their family's past. If you are one of these people then the Automated Genealogy website is for you. In this website you will find your Canadian ancestors who migrated, born and lived in Canada in the years 1901 and 1911. However you have to consider that this website is made by volunteer who are working very hard to complete the 1901 and 1911 census and put it in their database. In the 1901 census alone, there are over 5.6 million lines. As you can see, it can take quite a while to complete the entire database and put it in the website.
The genealogists working with the Automated Genealogy website works very hard to find all the documents about the people who lived in Canada in 1901 and 1911. You should consider the fact that a lot of people migrated during these two years and if you think that your ancestors lived in Canada during these years and want to find out more about the lineage of your family, then you should consider using this website. It's free and they made links to original documents for viewing. The interface is also easy to use for your convenience.
Some people even testified that they found out about their great grandmother's sister and her spouse after only a few seconds upon arriving in the website and searching. Here you will find marriage, death, migration and even birth documents that is both easy to find and also easy to read.
The volunteers here are also developing other census, such as the 1906 census of Canada, 1872 Kings County census and even the Canadian soldiers of World War I. They made the site easy to understand that even people who knows only a little about genealogy can understand how to search for their Canadian ancestors. You should consider that this website is relatively new and the researchers and genealogists along with the website developers involved are still improving the website and completing their data gathering efforts to provide quality services for their visitors.
So, if you are interested in knowing about your Canadian past, or if you think you have ancestors living in Canada and want to know more about your long lost extended family, you should consider exploring the Automated Genealogy website. If you are successful with your search, you may even organize a family reunion where every member of your family can exchange stories about your long lost relatives and know more about what's become of your family.
Indeed, finding out about your family can be fun. With the Automated Genealogy, you can be sure that you will find your ancestors who lived in Canada in 1901 and 1911.