The following announcement was written by MyHeritage:
We are pleased to announce the publication of a huge collection of historical U.S. city directories — an effort that has been two years in the making. The collection was produced exclusively by MyHeritage from 25,000 public U.S. city directories published between 1860 and 1960. It comprises 545 million aggregated records that have been consolidated from 1.3 billion records, many of which included similar entries for the same individual. This addition brings the total number of historical records on MyHeritage to 11.9 billion records.
Search the U.S. City Directories
The new city directories collection on MyHeritage is a rich source of information for anyone seeking to learn more about their family in the United States in the mid-19th to mid-20th century. The directories contain valuable insights on everyday American life spanning the time period from the Civil War to the Civil Rights Movement.
What are City Directories?
Cities in the United States have been producing and distributing directories since the 1700s as an up-to-date resource to help residents find local individuals and businesses. City directories typically list names (and spouses), addresses, occupations, and workplaces. Sometimes they include additional information.
Thanks to their level of detail, city directories can provide a viable alternative to U.S. census records during non-census years, as federal censuses are taken once every ten years, and in many cases city directories were published annually. They can also fill in the gaps in situations where census records were lost or destroyed. In 1921, a fire at the U.S. Department of Commerce destroyed most of the records from the 1890 census. Despite the loss of the records in the fire, much of the data can be reconstructed using the 1890 city directories on MyHeritage, which consist of directory books from 344 cities across the country, including 88 of the 100 most populated cities during that year.
Unique processing by MyHeritage
The city directories in this collection were published by thousands of cities and towns all over the U.S., and each directory is formatted differently. The huge amount of content and its variety made the project more challenging and required the development of special technology to process the city directories.
We first used Optical Character Recognition (OCR) to convert the scanned images of the directories into text. This process can result in errors in the output, and we created algorithms to detect and correct some of these errors.
Then, we needed to parse the records to identify the different fields in each record: names, occupations, addresses, and more. The differences in formatting between the books presented an additional challenge. Our team employed methods such as Name Entity Recognition (NER) and Conditional Random Field (CRF) to train an algorithm using a per-book model — meaning that for each of the 25,000 books, we manually labeled a sample of the records and used it to train the algorithm how to parse that directory. Using this model, the algorithm was able to parse the entire book into a structured index of valuable historical information.
In the example below of a city directory record for Ralph McPherran Kiner, an American Major League Baseball player and broadcaster, we see how our system overcame and corrected an OCR error. The incorrect address in the 1957 record is 55801 Yorkshire av, whereas the 1958 and 1960 records list the address as h5801 Yorkshire av, and the "h" implies that Ralph is the homeowner. We inferred that the first "5" in the first record was an OCR error and should actually be an "h", and were therefore able to determine that Ralph lived at the same address during these years.
Consolidating records and creating a searchable index
After all the information was parsed, we consolidated the records in an unprecedented way. We identified records thought to describe the same individual who lived at one particular address over several years, as published in multiple editions of the city directories. We then consolidated all of those entries into one aggregated record that covers a span of years. This reduced "search engine pollution," wherein a search for a person would have returned multiple, very similar entries from successive years, obscuring other records. The aggregation makes it easier to spot career changes, approximate marriage dates, re-marriages, and plausible death dates. To our knowledge, the algorithmic deduction of marriage and death events from city directories is unique to MyHeritage.
In the example below, we consolidated 31(!) records from the years 1912–1959 into a single record. Based on the information collected over the years, it is likely that Alfred and Mary Albert married circa 1914. We were also able to determine that Alfred died circa 1959.
The aggregated record also shows that Alfred changed his profession several times during these years, and he went from being a conductor to a carpenter to a motorman.
This is the power of consolidation: it converts many "dull" records into a single, rich biography that tells a life story!
Examples of challenging problems – and how we solved them
Multiple entries
Many published city directories saved typesetting (which was expensive) and paper by using a symbol to indicate that multiple entries had the same last name, such as ditto marks or dashes. Some entries continued onto a second line, while others occupied only one. The algorithm had to understand the difference between surname text and the text that often appears directly below it.
For instance, in the example below, the record extraction algorithm successfully inferred that Bartsch is a surname and that the ditto mark in the next line also means Bartsch.
The algorithm also determines where a record begins and where it ends. For example, the record below spans one line:
This record, however, spans two lines:
If the algorithm hadn't inferred this, we would have created an additional record for "Waller" and missed identifying it as the street name in the record about Wm F. While this process works very well, there are still some directories in which this type of record extraction is not 100% robust.
Abbreviations
A table of common abbreviations appears at the beginning of each city directory, listing abbreviations for names, occupations, residence status, and addresses that are used throughout the book. The records are often hard to decipher without the use of the abbreviation tables.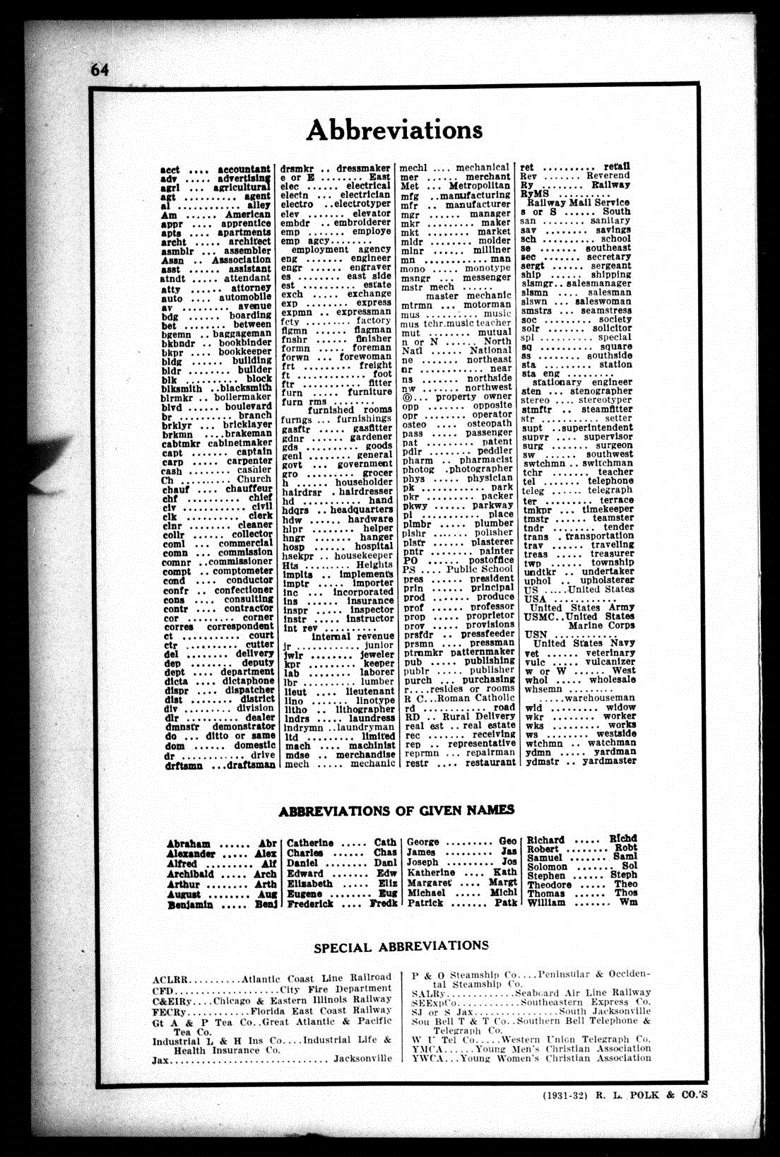 To integrate the abbreviation tables into the collection, we manually keyed in the table from each book and used it to expand the abbreviations in the records.
Our handling of first name abbreviations in this collection is particularly helpful, because if you're searching for a "Patrick", we'll find him for you even in records where he's listed as "Patk", so that you won't have to think about all the possible ways to search for each name – we've got you covered!
In the following example, we've expanded the abbreviations for the occupation sten to stenographer, clk to clerk, the workplace Fla Natl Bank to Florida National Bank, and residence status r to rents. This improves readability and enables searching and matching to family trees with much higher accuracy.
Important insights from the collection
Inferred life events
Consolidated city directory records enabled MyHeritage to automatically infer dates of marriage or death based on changes in the record data.
In the example below, Henry Bennett from Oakland, California most probably got married in late 1923 or early 1924, and the Oakland City Directory from 1924 lists Nancy as his wife. We therefore created a marriage event with Nancy clearly marked as implicit, dated circa 1924.
In the example below, Matthew and Sally Lewin are listed as spouses and reside together at 305 New Scotland Ave in Albany, New York until 1945. In the 1946 listing Sally appears as widowed, so we inferred that Matthew died circa 1946.
Change in homeowner status
Throughout the records we can see if the person living at any address was a renter, denoted by an "r" in most records, if they were a boarder, denoted by a "b", or if they were the homeowner, denoted by an "h".
By following a consolidated record over the years, we could see if someone changed from renting to owning their home at the same address.
In this example, we see that James Thompson was a renter until 1921. Sometime between 1921 and 1923 he became the owner of his residence.
Finding others who lived at the same address
The city directories collection allows users to see who else has lived at the same address. Simply click on "See who else lived at this address" in the record page to run a search by address.
This feature can be useful for locating ancestors, descendants, or other family members of the person you are researching who lived at the same address in other periods. Often multiple generations of a family lived at the same address, or a family home may have been passed on from one generation to the next.
In the following example, James and Glenna Japhet lived at 623 W Olmos Drive in San Antonio, Texas.
When checking to see who else lived at the same address in city directory records, we see that aside from James and Glenna, another person with the last name Japhet is also listed in the directories as having lived at that address: a woman named Laverne Japhet.
 It seems as if Laverne is either James' second wife or the same person as "Glenna L". This opens new avenues for more research.
Cost
Searching the U.S. City Directories is free, but a subscription is required to view the records.
Users with a Data or Complete subscription can view the full records including the high-resolution scans of the original directories, confirm Record Matches, extract information from the record straight to their family trees, and view Related Records for the person appearing in a historical record they are currently viewing.
Summary
The U.S. City Directories collection on MyHeritage is a treasure trove for anyone searching for more information about their ancestors in the United States. We have worked very hard to prepare this collection for our users, and believe it is the smartest online U.S. city directory collection ever made. Over the next few months, we are planning to expand this important collection even further by publishing thousands of additional city directories. This addition will include directories from more cities, and directories published prior to 1860 and after 1960.
Search the U.S. City Directories now
Enjoy!
The following is a Plus Edition article written by and copyright by Dick Eastman. 
The rampant spread of disease was common in the days before penicillin and other "wonder drugs" of the twentieth century. Our ancestors lived in fear of epidemics, and many of them died as the result of simple diseases that could be cured today with an injection or a prescription.
If you ever wondered why a large number of your ancestors disappeared during a certain period in history, you may want to investigate the possibility of an epidemic. Many cases of people disappearing from records can be traced to dying during an epidemic or moving away from the affected area.
Some of the epidemic statistics are staggering. For instance, the influenza epidemic of 1918 and 1919 killed more people than did World War I. Any major outbreak of disease was accelerated by a total absence of sanitary procedures and lack of knowledge. In Europe during the Middle Ages, the homes of the citizens often had roofs and walls made of straw, floors of dirt, and dwellings where animals were kept inside. The city streets, if that's what you could call them, often were barely wide enough for a single cart to pass, and they were perpetually covered with mud, garbage, and excrement. For lack of heated water, people rarely bathed, and fleas were commonplace. It is a wonder that anyone survived under these conditions!
North America had fewer problems in the early days of European settlement than their relatives across the Atlantic. In the seventeenth century, the relative isolation of many colonies tended to limit the impact of epidemics. One study of seventeenth-century colonists in Massachusetts shows an extraordinarily healthy population as measured by statistics on average length of life, mortality and morbidity rates, and infant mortality. Male residents of the first settlements lived into their seventies and eighties while their English counterparts were dying in their mid-thirties. Similarly, colonial women in the Massachusetts Bay Colony who escaped death during childbirth also lived long lives. At the same time, early settlements in warmer areas had more difficulties with epidemics. The first generations of settlers in the Virginia colonies were plagued by malaria, yellow fever, and other epidemics. Yet New England had very few problems with the same diseases.
Smallpox, an acute viral disease that disfigures its victims, was perhaps the most fearsome illness of the colonial period. Introduced to the Americas by European colonists, the disease had an especially devastating effect on Native Americans who, because of their lack of contact with the virus, had virtually no immunity to it. Native American populations throughout the colonies were all but wiped out.
The remainder of this article is for Plus Edition subscribers only.
There are three different methods of viewing the full Plus Edition article:
1. If you have a Plus Edition user ID and password, you can read the full article right now at no additional charge in this web site's Plus Edition at https://eognplus.com/2020/02/24/epidemics/. This article will remain online for several weeks.
If you do not remember your Plus Edition user ID or password, you can retrieve them at https://www.eognplus.com and click on "Forgot password?"
2. If you do not have a Plus Edition subscription but would like to subscribe, you will be able to immediately read this article online. What sort of articles can you read in the Plus Edition? Click here to find out. For more information or to subscribe, go to https://blog.eogn.com/subscribe-to-the-plus-edition.
3. Non-subscribers may purchase this one article, without subscribing, for $2.00 US. You may purchase the article by clicking here. Payment can be made with VISA, MasterCard, American Express, Discover Card, or with PayPal's safe and secure payment system.  You can then either read the article on-screen or else download it to your computer and save it.
By 22 Feb 1770, 250 years ago today, the anonymous informant reporting events in Boston to Customs Collector Joseph Harrison judged that the Sons of Liberty had "seemed greatly to gain ground" over the previous week.
One piece of evidence was that "a subscription was sett on foot amongst the females in town to discontinue to Drinking of Tea." The newspapers also featured a spinning meeting in the North End. (I'll get back to that.) On the night of 21 February, another anonymous letter said, someone "besmeared…the Importers windows with feathers & tar & feathers."
In another sign of Whig strength, on 22 February the boys doubled their picket lines enforcing non-importation. According to the letter to Harrison: "The Exhibition at [William] Jacksons [was] the same as Last week—there was likewise an Exhibition at Theopiluis Lillie." Jackson's Brazen Head hardware store was in the center of town, but Lillie's dry-goods shop was up in the North End on Middle Street (now Hanover Street).
Another person living in that neighborhood, "about fifty or sixty paces away," was Ebenezer Richardson, a Customs service land-waiter. Richardson was a notorious outcast. While living in Woburn in the 1750s, he'd gotten his wife's sister pregnant, then kept quiet for over a year as people blamed one of the town's ministers. Once the truth came out, Richardson, now widowed, and his sister-in-law had to move to Boston, where they married at King's Chapel.
In Boston, Richardson began to supply confidential information to the province's attorney general, Edmund Trowbridge, and then to Customs official Charles Paxton. That work stopped being confidential after some documents leaked from London in the early 1760s. The Customs office then hired Richardson officially, but Bostonians continued to refer to him as "the Informer."
During the anti-Stamp Act riots of 24 Aug 1765, a crowd attacked the Richardsons' house, and a few days later the Overseers of the Poor paid to have the family removed back to Woburn, perhaps for their own safety. By 1766 Richardson was back in Boston. After Capt. Daniel Malcom defied Customs officials, boys went over to Richardson's house to taunt him for not gaining a reward—and it's not even clear he was involved in that case.
Not that Richardson was quietly minding his own business in the political disputes of the period. According to William Gray, "Some mention of Effigies" had come up on 21 February, and Richardson said "he hoped if these was before Importers Doors there be a Dust beat up, wish'd the 14. Regiment there. They would Cut up the d——d Yankees." (Richardson came from an old Puritan family himself, so here "Yankees" was a political epithet.)
According to the next week's Boston Evening-Post:
Soon after it [the non-importation pageantry] was set up, Ebenezer Richardson, the famous Informer, came by and endeavored to persuade a countryman to overturn it with his wagon; which he refusing, he applied to a charcoal man to drive his cart against it; but he said he had no business with it, and would not concern himself about it.

Richardson (as the boys say) pressed him to it, saying he was a magistrate in the town and would bear him out in it. The man still denying to meddle therewith, Richardson laid hold on the horses and endeavored to shove them upon the pole which supported the pageantry; the cart, however, passed without disturbing it.
Frustrated, Richardson started to stomp off. But by this point some Whig men had arrived "to see Pagentry before Lilly's Door," as one of them, Edward Procter, later testified. Richardson saw them, perhaps laughing at him, and shouted, "Perjury! Perjury!"
Nobody's sure what Richardson meant by that. Was he saying that calling Lillie an enemy of the country was perjury? Was he accusing those men of having perjured themselves in the past? Was he denying what they might have shouted at him (and, as shown above, Bostonians had a lot of stories to tell)? The men challenged Richardson to explain, and he replied that he was directing his comment not at Procter but at another man, Thomas Knox—which doesn't help.
A neighbor named Deborah Warner said Richardson "Went into his house, and then…he came out in a great Rage, doubling his Fists and challenged the Gentlemen to the Door. Said it should be hot enough before night." Sarah Richardson, one of the land-waiter's daughters, testified that Knox and Capt. John Matchet responded, "come out you damn Son of Bitch, I'll have your Heart out your Liver out."
The yelling outside of Richardson's door caught the attention of the boys. They left the signs and shoppers in front of Lillie's shop and ran over to Richardson's to "call him Informer," in the Evening-Post's words. Richardson and his wife Kezia—the woman who had once been his sister-in-law—tried to shoo the boys away, "flourishing their arms and advancing out into the street, with high threatenings." That didn't work. As the newspaper reported, "the children would retreat and on their return, advance, with the squealing and noise they usually make on such occasions."
Lieutenant Governor Thomas Hutchinson later wrote that he "gave express directions to the Sheriff [Stephen Greenleaf] to go and suppress this unlawful assembly…but he did not think it safe to attempt it nor is there a J[ustice]. of P[eace]. in the town who will appear upon such an occasion."
Outside the Richardsons' house, the young mob started throwing "light rubbish." Ebenezer came out "with a stick" and ordered the boys to go away. Invoking traditional British liberty, the children "said they would not, Kings high Way"—i.e., they had the right to be in the street. They threw more garbage. Kezia Richardson threw some back and was in return struck by an egg.
At some point a sailor who worked for the Customs service named George Wilmot came to the Richardsons' house and offered to help his colleague. According to Sarah Richardson, "Wilmot said he would stand by him as Long as he had breath. Wilmot asked if he had any Gun. R[ichardson]. said he must get his Gun."
Becoming desperate, "Richardson opened the door and snapped a gun" at the crowd—showing that he had a working musket but not firing anything. He reportedly threatened, "if you dont go away I'll blow a hole thro you enough to Drive a Cart and Oxen" or "as sure as there was a G— in heaven, he'd blow a Lane thro 'em." After a moment of fright, the young mob just started flinging things more ferociously.
Multiple witnesses said that someone threw a stick or brickbat out of the house and hit a passing soldier. He threw it back, smashing a window. That got the boys even more excited. Witness Andrew Tewksbury stated, "They threw Limon Peels then Stones. Some Men looked on Boys and they threw faster. Men shew'd no signs of Approbation but laughing." Ebenezer, Kezia, and Sarah Richardson were all hit by stones.
Soon most of the windows in the house were broken. Sarah Richardson testified, "I staid till no Lead, no Frame, and then went away." Ebenezer Richardson and George Wilmot retreated to an upper story. The active Whig tailor David Bradlee testified, "I saw one or two Men in the Room with Guns in their hands. R[ichardson] put a Gun on edge of Window."
Finally, Richardson fired his musket. This time it was loaded.
TOMORROW: Rough justice.

DearREADERS,
Last summer, Ol' Myrt here moved to a different blogging platform. It was a matter of Blogger posts not transferring well to WordPress. I certainly did not want to break hyperlinks and spend weeks attempting to clean things up, so I created Myrt's Musings.
Here's where you will find DearMYRTLE:
Yes, I do have a Pinterest account, and one on Instagram, but I rarely use them.
Happy family tree climbing!
Myrt 🙂
DearMYRTLE,
Your friend in genealogy
Next week on Monday, October 21, we will release new AncestryDNA® communities for members with ties to Scandinavia and Portugal, helping them learn even more about their family's unique story. To deliver frequent, quality updates to our members we leverage the latest DNA science to improve our products, resulting in highly-detailed and meaningful historical insights.  Read More
The post Check your AncestryDNA® results next week! We're adding new Portuguese and Scandinavian communities, empowering you to discover even more about your family history through DNA appeared first on Ancestry Blog.
Get ready to leave your information for your descendants who will also be genealogists! Between March 12 and March 20, invitations to participate in the 2020 Census will start arriving in households across the USA.
According to today's announcement from the U.S. Census Bureau:
"The Census Bureau is ready for the nation to respond next month," said Census Bureau Director Dr. Steven Dillingham. "Millions of Americans are applying for 2020 Census jobs, more than 270,000 local and national organizations are engaged, and in less than 30 days the majority of U.S. households will receive an invitation to respond to help ensure that every person in the U.S. is counted."
"The 2020 Census is on mission, on schedule, and on budget to promote an accurate count," Dillingham continued. "Response is important because statistics from the census are used in distributing where hundreds of billions in funding for school lunches, hospitals, roads and much more. The invitations will remind respondents to include everyone living in the household, whether they are related or not. This includes young children. Your response will impact communities for the next decade."
"The Census Bureau has successfully tested its data collection systems, has built backup systems to support resilient operations, and is ready to receive responses from all around the country," added Dillingham.
This invitation will include instructions on how to respond to the 2020 Census online or by phone. By April 1, most households will have received an invitation delivered either by mail or by a census taker. In areas of the country that are less likely to respond online, a paper questionnaire will be included in the initial mailing to households. Reminder mailings will be sent to households that do not respond, and in the fourth mailing every household that has not yet responded will receive a paper questionnaire.
Once households receive invitations, please respond to the 2020 Census by using the provided Census ID. If a household is unable to enter the Census ID people can still respond, by providing an address. Whether people respond online, by phone or by mail, it is important to respond right away.
Below is a timeline of how and when the Census Bureau will invite households to complete the 2020 Census questionnaire:
March 12-20: Initial invitations to respond online and by phone will be delivered by the U.S. Postal Service. Areas that are less likely to respond online will receive a paper questionnaire along with the invitation to respond online or over the phone.
March 16-24: Reminder letters will be delivered.
March 26-April 3: Reminder postcards will be delivered to households that have not responded.
April 8-16: Reminder letters and paper questionnaires will bedelivered to remaining households that have not responded.
April 20-27: Final reminder postcards will be delivered to households that have not yet responded before census takers follow up in person.
If a household does not respond to any of the invitations, a census taker will follow up in person sometime between May 13 and July 31. A sample of the 2020 Census paper questionnaire and preview of the online questionnaire is available, along with more information about when most people will receive their invitations in the mail.
The 2020 Census questionnaire is available online and by phone in English and 12 additional languages: Spanish, Chinese, Vietnamese, Korean, Russian, Arabic, Tagalog, Polish, French, Haitian Creole, Portuguese, and Japanese. These 13 languages cover the language needs of over 99% of all U.S. households. To help ensure a complete count of everyone, the Census Bureau will also provide video language guides, print language guides and language glossaries in 59 non-English languages, including American Sign Language, Braille, and Large Print.
The U.S. Constitution mandates a census of the population every 10 years. Census statistics help determine the number of seats each state holds in the U.S. House of Representatives and how billions of dollars in federal funds are allocated to state and local communities for the next 10 years.
For more information about the 2020 Census, visit 2020census.gov.
NEW RESOURCES
RadioResource International: Database Tracks States' 2019 9-1-1-Related Legislation. "The National 911 Program and the National Conference of State Legislatures (NCSL) made a database that summarizes 2019 key enacted legislation available. Since 2012, the database has served as a resource for states looking to gather insight into neighboring legislative efforts or improve their emergency communications operations. The information allows states to easily compare recently enacted laws or modifications to existing laws involving 9-1-1."
TWEAKS AND UPDATES
Motherboard: This App Automatically Cancels and Sues Robocallers. "DoNotPay, the family of consumer advocacy services meant to protect people from corporate exploitation, is launching a new app aimed at helping end our long national nightmare surrounding robocalls by giving you a burner credit card to get their contact details then giving you a chatbot lawyer to automatically sue them." Oh, if they only had one that worked for land lines…
CNET: Google's GameSnacks brings bite-size web games to slow phones. "On Thursday, Google released its new casual mobile-gaming collection. GameSnacks, from Google's Area 120 development lab, is aiming to improve game loading for people using low-memory devices, and devices on 2G or 3G networks. GameSnacks joins the ranks of quickly loading game platforms like Facebook's Instant Games."
The Verge: Snapchat is testing a big new redesign. "Snap is working on two significant tests that could reshape its flagship app in a critical year. Tipsters have provided me with screenshots of two ongoing tests that have rolled out to a small percentage of Snapchat's user base."
USEFUL STUFF
Search Engine Journal: Citations & Local SEO: The Ultimate Beginner's Guide. "When set up correctly, citations can be really easy to manage and can lead to improved local rankings. However, if done incorrectly, citations can be a nightmare to clean up. In this guide, I'll walk you through every facet of citations to help you improve your local SEO strategy."
Medium: How to Start "Marie Kondo'ing" Your Facebook Account. "Perhaps there are some groups that only meet on Facebook that you otherwise couldn't participate in. Or maybe you currently use it for your business which makes it hard to leave altogether. If you don't want to delete it just yet, how about giving it a 'Marie Kondo' makeover instead?" I have not deleted my Facebook account yet — please note that glares of icy contempt will be donated to charity if not claimed within 24 hours — but I did remove it from my phone. An excellent decision.
AROUND THE SEARCH AND SOCIAL MEDIA WORLD
Poynter: Why people still fall for fake screenshots. "What is it about fake screenshots that makes people vulnerable to thinking they're real? For one thing, people often use real screenshots to 'preserve' something, like a provocative or erroneous tweet, that might be later deleted. A screenshot can be a signal that something "real" has been exposed. Hoaxers exploit that signal with a fake. And if an original can't be found, people might just assume it was deleted."
SECURITY & LEGAL
The Register: A dirty dozen of Bluetooth bugs threaten to reboot, freeze, or hack your trendy gizmos from close range. "The flaws, collectively dubbed SWEYNTOOTH (because every bug has to have its own name these days), allow a suitably skilled attacker to crash or deadlock BLE devices, or to bypass pairing security to gain arbitrary read and write access to device functions."
RESEARCH & OPINION
Egyptian Streets: Why Egyptian Minister Rania Al-Mashat's Social Media Activity Matters. "My lack of attention to the other political figures in Egypt and their work could be explained by their little to very much absent activity online. Each time I searched a name, it was mainly the ministry's main page that would come up, or a poorly activated social media account….Yet Rania Al-Mashat's social media activity, on the other hand, is active, managed, and distinctive from the official ministry's account. Though I did not track her increase of followers or engagement over time, one can simply look at the comments and reactions to her posts and recognize how her social media activity is building a profile for her and her work."
The Next Web: Reuters built a prototype for automated news videos using Deepfakes tech. "The Reuters news company and an AI startup named Synthesia today unveiled a new project they've partnered on that uses Deepfakes-style technology to generate automated news reports in real time." Good afternoon, Internet…
Do you like ResearchBuzz? Does it help you out? Please consider supporting it on Patreon. Not interested in commitment? Perhaps you'd buy me an iced tea. I love your comments, I love your site suggestions, and I love you. Feel free to comment on the blog, or @ResearchBuzz on Twitter. Thanks!
Pre-registration for the 2017 National Genealogical Society Conference ends tomorrow, 27 April 2017. The conference will be held in Raleigh, North Carolina, 10-13 May 2017 at the Raleigh Convention Center. While you can register onsite starting noon on 9 May 2017, you must register by tomorrow for meals, events, and workshops. As I write this, some luncheon choices and workshops are already sold out.
According to NGS,
The conference program, Family History Lives Here, features more than 175 lectures from basic to advanced genealogical research, including eighteen presentations on DNA science and methodology. Finding records and effectively using them is the focus of fifty-seven lectures. Among the types of records discussed are a wide range of religious records, military and associated records, North Carolina and regional U.S. records, and African American and Native American records.
Organizations sponsor luncheons during the conference and provide entertaining speakers ($32). The North Carolina Genealogical Society is hosting an evening event, "Pig Pickin" ($45). Pig Pickin' features North Carolina BBQ, a five-member blue grass band, and local artisans. NGS is hosting its annual banquet with speaker Stuart Watson, an award-winning investigative reporter ($45).
The conference costs $240 for society members and $275 for non-members. One day registrations are available for $110 (member) and $120 (non-member).
For more information or to register for the conference, visit http://conference.ngsgenealogy.org.
I'm happy to serve again this year as an official social media reporter for the conference.
Consumer genomics is a new and evolving field and Ancestry® is at the forefront, constantly developing new ways for you to learn about yourself through DNA. Today, we're proud to announce that our team of scientists have increased the AncestryDNA® reference panel to more than double its previous size with samples from more places around Read More
The post Ancestry® Expands Reference Panel to Deliver More Precise Results and New Regions appeared first on Ancestry Blog.

The start of the Revolutionary War changed New London merchant Nathaniel Shaw, Jr.'s business environment.
For one thing, military supplies were much more valuable. On 25 Apr 1775 Shaw asked his connection in New York for "Five Hundred wt. of Powder, fifteen Hundred Flints and Eighteen Hundred weight of Lead." But those things were already too scarce on the continent.
According to Robert Owen Decker's The Whaling City: A History of New London, Shaw also urged the Connecticut government to order 400-500 barrels of gunpowder from him. He strongly supported the Patriot cause, even funding the colony's delegates to the Continental Congress, but he also had a business to run.
On 11 May the colony treasurer placed its order: only 300 barrels. Shaw replied four days later, "you may Depend on my Supplying you with the Quantity of Powder you Mention." He already had a captain in the Caribbean, John Mackibbin, with a line of credit and instructions to buy whatever gunpowder he could find.
The new book Two Revolutionary War Privateers, by William and Virginia Packwood, reports that on 29 May Shaw sent another captain, William Packwood, back out to the West Indies on the sloop Macaroni.
Mackibbin returned to Long Island Sound in the sloop Black Joke in July. He brought back "10000 Gallons Melasses, 15 Thousand wt. of Coffee, 26 Thousand of Sugar"—but no mention of gunpowder. Shaw dispatched him to Philadelphia on 12 July with "Orders to take the Sugar and Coffee on Shore without paying the Dutys and if it Can be avoided not to pay any for the Melasses." Business as usual for Shaw so far.
But there was a new wrinkle. Shaw feared that after 20 July Mackibbin would not be able to "Clear out for N London" and perhaps not for any "Forreign Port." The royal government was about to clamp down on trade with Connecticut for joining the attack on Boston.
Shaw therefore told his captain that his first course should be to load up with flour and barrel staves and sail for Haiti by 20 July. If Mackibbin couldn't do that, he should try for some other port in the Caribbean, sell the ship for £300, or come home "in Ballast without Clearing out and Get me Two Thousand feet of Good Long Yellow Pine Plank."
As for what Capt. Mackibbin should do in Haiti, Shaw wrote: "Purchase Gun Powder & Return as Soon as you Can. If that Article is not to be had Purchase Brown Sugar and Coffee. Dont keep this Letter on Board for Fear of Accidents but burn it."
Five days later, Shaw sent another letter after Mackibbin:
I am Inform'd that there is a Large Quantity of Powder Arived at the Cape And I would have you in Case you Can Clear go Directly for the Cape and when you Arrive there you may Very Easily know wether you Can have Liberty to Trade there or not And if you Can Purchase Powder to the Amount of your Cargoe, and if you Cannot trade there you Can Agree for the Powder to be brought Down to the Mole
The "Cape" meant Cap-Haïtien and "the Mole" meant Môle-Saint-Nicolas at the end of the same peninsula. In other words, Shaw told Mackibbin that if he couldn't load gunpowder openly at the main port, he should arrange to pick it up at a more secluded spot.
TOMORROW: Mr. Shaw's new contact in Boston.