Over 40 years ago Glen and Joyce Alt lived in Platteville, Wisconsin where they became friends with Glenda Clyde and her husband. After several years, the two couples moved their separate ways, the Alts to Massachusetts, the Clydes to Washington state, and the couples had no further contact.
Years passed by. One day Glen's parents were participating in a household auction in Dodgeville, Wisconsin. When they bought a box of stuff for a few dollars, the auctioneer threw in another for free. The Alts found the second box contained a bunch of old photographs and a piece of paper with names, dates, and places. For some reason, Glen's mother threw them into a drawer instead of throwing them away. Eventually, she passed them on to Glen. Glen felt there must be someone out there who would place great value on the photographs, so he began investing great efforts in finding them. He had a clue. The paper identified the family as the Urens of Blanchardville, Wisconsin.
Glen started looking, but without success. When he went to Wisconsin on vacation three years later, he availed himself of the opportunity to ask around. He asked some old friends in Platteville if they knew any Urens. One remembered that they had a mutual friend whose maiden name was U'Ren: Glenda Clyde.
Twenty-eight years after they had last communicated, Glen found Glenda on social media. She thought the photographs and information might be of her family, so Glen sent the photographs and the paper to her. Glenda discovered that the pictures and paper were of her great-grandfather's brother's family. The information gave her seven new families and 31 new names.
"These precious pictures/paper were bought in the Midwest, given to Glen on the East Coast and then sent to me, a family member, on the West Coast," Glenda wrote. "Considering the incredible preservation and journey of this valuable information, to us, it truly is a miracle."
Retold with the permission of Glenda Clyde. You can also read her story in R. Scott Lloyd, "Family History Moments: Package Deal," Deseret News (http://www.deseretnews.com/article/865675767/Package-deal.html : 16 March 2017). Photograph contributed by Glenda Clyde.
At the New York City Red Carpet Screening for "A Beautiful Day in the Neighborhood" this week, Tom Hanks was shocked to learn he is a distant relative to Fred Rogers, the beloved television personality who he will portray in the movie. Access Hollywood revealed the powerful Ancestry® discovery to Tom and his wife, Rita Read More
The post Tom Hanks Surprised by Ancestry® Discovery That He's Related to Mr. Rogers, His Onscreen Character appeared first on Ancestry Blog.
This newsletter now has its own Twitter account at @buzz_corona. I'm only doing one of these newsletters a day so they're going to be enormous. Wash your hands. I love you.
NEW RESOURCES
TNW: Learning during the quarantine: You can read JSTOR's Open Access content without an account. "Yesterday, JSTOR, the famous digital academic library, tweeted that 6,000 of its eBooks and over 150 journals are open for anyone to read. The organization noted it's bringing out 26 public health journal archives, which you can read until June 30. For folks who previously haven't had access to JSTOR's library, you can now rifle through all its open access content without having to create an account."
Zywave: Zywave Launches COVID-19 Resource Center. "Zywave, the leading insurtech provider powering agency growth, today announced the launch of its COVID-19 Resource Center, an online library offering insurance professionals access to free compliance, HR and employee-facing content and resources related to the COVID-19 pandemic."
TechCrunch: Volunteer group develops a COVID-19 testing location database for the U.S.. "A new group of volunteer coders and medical professionals, including Air Force software organization Kessel Run's Chief Data Officer Andrew Kemendo, and data-driven doctor and researcher Jorge A. Caballero, have created a new findecovidtesting.com website, which aims to provide up-to date location info for all testing sites in the U.S. Immediately, please note that a resource like this is not meant as a directory for private individuals who are looking to show up at a test site, expecting to receive diagnostics." Emphasis mine.
Hunterdon Review (New Jersey): State will match talent with opportunities on coronavirus outbreak front lines. "The state is building a centralized resource to match talent with opportunities in industries on the front lines of the coronavirus outbreak. The state is starting the roll-out of this new tool with critical industries like grocery stores, shipping and logistics, healthcare, janitorial services, and warehousing, but over time it will expand to work with all industries that need to tap into New Jersey's best-in-class talent pool during this extraordinary time."
Just Launched: Project N95: The National COVID-19 Medical Equipment Clearinghouse. "Rapid response teams have been coordinating with manufacturers globally with the capacity to produce. Within weeks, millions of units of personal protective equipment (PPE) should be available for distribution. We are working with governments to determine where demand is and where it is most urgent. This is a tool designed to gather data as efficiently as possible to assist in distribution efforts. Please note this process is rapidly evolving and we are doing our best to be as responsive to emergent needs as quickly as possible. However, please bear with us given the rapidly evolving nature of the pandemic."
Daily Comet: New website connects Louisiana restaurants with customers during coronavirus crisis. "A new one-stop website is connecting Louisiana restaurants with their customers during the coronavirus crisis. With so many Louisiana restaurants scrambling to alter their menus to accommodate take out and delivery service, openforbusinessla.com is compiling a listing of Louisiana restaurants offering take out, curbside and delivery options while a state order has shuttered their dining rooms through April 13."
USEFUL STUFF
From RadioTimes, with a big thanks to Dori S. Listen, if you see something you think I should include in this newsletter tag me at @ResearchBuzz on Twitter. Yes, I am normally very good on staying on top of things. Right now there is so much news flying around I know I'm missing more than I used to. And if I've already seen it, so what? I'd rather see it ten times than miss it once. So anyway: Audible just made hundreds of titles completely free to help during coronavirus crisis. "Good news for those stuck at home in isolation: Audible is making hundreds of titles available for free during the coronavirus pandemic. The audiobook platform has said that, for as long as schools are closed, anyone can listen to a vast selection of its titles. This means books read by Westworld's Thandie Newton and Downton Abbey's Dan Stevens are available to stream at no cost at all."
CBS News: How to donate personal protective equipment like masks and gloves to health care workers. "Public health experts have advised people not to stockpile masks — they say only people who are already sick and medical professionals should wear masks. But panicked members of the public had already exhausted existing supplies, leading to widespread shortages. Desperate doctors and nurses are taking to social media to plead for donations of much-needed supplies using the hashtag #GetMePPE. However, it can be difficult to figure out exactly how to get these supplies into the hands of the people who need them." Good-sized list.
Vox: Here's how you can help people who've lost jobs or housing in the wake of coronavirus. "Social distancing measures recommended by authorities mean helping in person isn't an option for the vast majority of Americans right now, but there are many worthy organizations seeking monetary donations to continue their work for a variety of affected communities. For many, money has never been tighter. But for those with a few dollars to spare, they can help vulnerable communities have a buffer long after the spread of Covid-19 is contained. Here are a few ways you can assist." Good, well-annotated list.
Stylist: How to start an online book club, and the top Instagram accounts to inspire you. "As many of us turn to reading during self-isolation, here are tips on how to start an online book club. And, if you need a little inspiration, we've rounded up some of the best ones already out there."
New York Times: I Spent a Year in Space, and I Have Tips on Isolation to Share. "When I lived on the International Space Station for nearly a year, it wasn't easy. When I went to sleep, I was at work. When I woke up, I was still at work. Flying in space is probably the only job you absolutely cannot quit. But I learned some things during my time up there that I'd like to share — because they are about to come in handy again, as we all confine ourselves at home to help stop the spread of the coronavirus. Here are a few tips on living in isolation, from someone who has been there."
Entrepreneur: 65 Free Tools to Help You Through the Coronavirus Pandemic. "In response to the pandemic, Zoom CEO Eric Yuan recently reminded us that we can all help each other in our own ways. He has provided K-12 educators with free access to the videoconferencing platform so students can continue learning. Inspired, I shared an idea with Jason Feifer, editor in chief at Entrepreneur: a simple, organized list of free product and service offerings from all types of companies. Access to these powerful tools can help organizations, teams and families." Middling annotation but lots of resources.
Parade: 50+ Places Where Families Can Get Free Meals for Kids During COVID-19—By State . "Right now, there are millions of school children who are at home with the new reality of keeping up with their studies remotely and navigating educational goals and expectations. Making sure kids are well-fed should be at the top of all our lists. Working together to keep kids fed is just as important as ever as we get through this Coronavirus pandemic. That's why so many restaurants, both local and fast-food or fast-casual chains, have stepped up to provide free meal resources for kids in need." There are also national resources here. The list is being updated.
Rhinegold Publishing: How to watch piano recitals online. "As concerts across the world are cancelled and artists face strict social distancing and self-isolation measures, many are taking to the web to share their music-making with us. From live social media streams to archive concert recordings, here are a few ways to watch fantastic piano performances online."
Pitchfork: You Can Read Every Issue of Wire for Free This Week. "The long-running British avant-garde music magazine The Wire has announced it has opened its online archives to the public for the next week." The magazine's been going since 1982, so this is a lot of content.
School Library Journal: School Library Journal Offers Free Full Access to Content, Digitized Magazines. "School Library Journal (SLJ) is offering temporary free access to digitized editions of SLJ, as well as all content on its website, SLJ.com. 'We want to support you as you grapple with the challenge of advancing your work through the COVID-19 crisis,' says Rebecca T. Miller, group publisher of Library Journal, School Library Journal, and The Horn Book."
Morocco World News: COVID-19: Moroccan Museums Stream Live Visits for Art Lovers. "In light of Morocco's state of emergency and the closure of several art events and institutes such as museums, the Moroccan National Foundation of Museums (FNM), decided to offer free online museum visits through a 360° virtual immersion."
MLB TV: We're Opening The 2018 And 2019 Archives. "Stream the 2018 and 2019 ARCHIVES free on MLB. TV for a limited time. Log in or create an account to start watching today."
UPDATES
New Lenox Patriot: New Facebook group created for children to virtually read to seniors. "And since creating the group on March 17, more than 300 people have joined from all around the country. The group allows people to join upon approval by Green where parents can then sign their child up to read on a certain day. Multiple children read each day."
Business Insider: Google says it has removed 'millions of ads in the past week' relating to coronavirus, but users are still seeing ads for products like face masks. "Weeks after Google said it was banning ads from companies attempting to profit off of panic surrounding the novel coronavirus, users still reported seeing ads for products like face masks served by Google Ads."
SOCIETAL IMPACT
Hollywood Reporter: Costume Designers Guild Sewing Masks for Health Care Facilities. "IATSE's Theatre Wardrobe Locals, the Hollywood Costumers Local and Costume Designers Guild are leading an effort through which its members will sew protective masks for immediate distribution to health care facilities. The effort addresses the enormous shortage of masks, gloves and additional protective gear that doctors and other health care workers rely upon as they treat individuals with coronavirus symptoms."
DishaBytes: From Yoga To Dance Classes: Bollywood Goes Online Amid Corona Crisis. "The novel coronavirus outbreak in the country may have brought the ever-bustling film industry to a halt, but it hasn't stopped Bollywood celebrities from utilising their massive online influence to entertain their followers as well as engage them in fitness, dance and yoga routines. As government encourages more social distancing, people from the film fraternity are finding ways to connect to people and ensure their self-isolation isn't wasted."
National Geographic: Fake animal news abounds on social media as coronavirus upends life. "People are compelled to share posts that make them emotional. When we're feeling stressed, joyous animal footage can be an irresistible salve. The spread of social phenomena is so powerful, 2016 research shows, that it can follow same models that trace the contagion of epidemics."
PSFK: The Pandemic Inside the Pandemic: Leveraging Social Media to Fight Disinformation. "Misinformation is commonplace in today's digital- and social-first media landscape. Here's how consumers and creators alike are putting existing platforms to new uses to creatively halt the spread."
RESEARCH
University World News: Hunt for coronavirus cure is making science more open. "…while cities are locked down and borders are closed in response to the coronavirus outbreak, science is becoming more open. This openness is already making a difference to scientists' response to the virus and has the potential to change the world. But it's not as simple as making every research finding available to anyone for any purpose. Without care and responsibility, there is a danger that open science can be misused or contribute to the spread of misinformation."
POLITICS AND SECURITY
Hurriyet Daily News: Turkey detains 64 over sharing 'unfounded and provocative' posts on social media. "Turkey has detained 64 people for sharing 'unfounded and provocative' posts on social media about the deadly coronavirus outbreak, according to the Interior Ministry. The Interior Ministry on late March 19 said that 64 of 242 suspects have been detained for allegedly making unfounded and provocative coronavirus posts on social media since March 11."
CoronaBuzz is brought to you by ResearchBuzz. I love your comments, I love your site suggestions, and I love you. Feel free to comment, send resource suggestions, or tag @buzz_corona on Twitter. Thanks!
TONS of free/useful resource pointers today. This newsletter now has its own Twitter account at @buzz_corona , if you want to see individual items as they're added. I'm only doing one of these newsletters a day so they're going to be enormous. Wash your hands. I love you.
NEW RESOURCES
Big Island Now: State Unveils New COVID-19 Website. "The Hawai'i Department of Health said it provides timely information and resources on the coronavirus, including guidance on how to prevent and mitigate community spread, common symptoms of COVID-19 and frequently asked questions."
WXYZ: Website aims to help bartenders and servers affected by COVID-19 shutdowns. "The website, GoTipem.com, allows bartenders and servers to enter their own digital money transaction names and people can send them a "tip" of $1, $2 or $5, as you would if you were in a restaurant."
Milwaukee: UWM Archive is Chronicling Milwaukee's Coronavirus Experience for History. "The site's goal is to memorialize how Milwaukee experienced this global pandemic. Cantwell and one of his classes have taken on the task of curating submissions and material for the collection. They are enlisting the help of every Milwaukeean who wants to contribute something to the archive, be it photographs of shuttered businesses, notifications from employers, personal stories, examples of social distancing in the community, and anything else that records the strange times around us."
WMTV: New website initiative connects Wisconsin volunteers and organizations amid COVID-19. "A new website in the state is helping to connect volunteers and organizations in Wisconsin to address pressing needs during the coronavirus outbreak. The United Way of Wisconsin, Serve Wisconsin, and the Wisconsin Volunteer Coordinators Association created the COVID-19 Response initiative on the Volunteer Wisconsin website."
USEFUL STUFF
IGN India: Netflix Party Launches As A Google Chrome Extension. "You can still have a party despite social distancing, and Netflix has the perfect way for you to jam. The streaming giant launched a chrome extension that allows you and your compadres to watch Netflix shows and movies together right from the comfort of your own homes."
Variety: Grammy Museum to Bring Artist Programs Online, Starting With Billie Eilish, Brandi Carlile, Yola. "Included in the initial rollout from the archives: nine programs featuring Eilish with her brother Finneas, Carlile, Yola, Bob Newhart, Greta Van Fleet, Kool and the Gang, X Ambassadors, Larkin Poe and Scarypoolparty, many of them recorded in the last few months. All were filmed at the 200-seat Clive Davis Theater inside the museum, located in the LA Live complex."
Slate: Am I Expected to Home-School My Kid Right Now?. "As COVID-19 continues to spread, schools nationwide are shutting their doors for extended periods in an attempt to limit virus transmission. I've spent the last week or so fielding questions from parents about what this means for their children's education, what parents should be doing to help their kids, and how best to handle all of this uncertainty. Here's a list of some of parents' most pressing questions, along with my answers, which I hope may help you navigate this difficult time."
Vogue: 8 Soothing Social Media Accounts to Help Keep You Sane. "Staying informed about the latest developments of the global coronavirus pandemic, or the impending presidential election is undoubtedly important right now. But so are moments of self-care, even when 'unplugging' isn't exactly feasible. Below, Vogue staffers weigh in on the social media accounts that offer welcome moments of respite on their Instagram feeds and a much-needed Twitter timeline cleanse."
6SqFt: All of the performances, exhibits, and events from NYC cultural institutions you can stream online. "Although the coronavirus has shuttered most of the city, many museums, performance centers, libraries, and other organizations are offering free (or nearly free) online resources to entertain New Yorkers throughout this difficult period. From virtual storytime with Brooklyn Public Library librarians to live-streamed performances by the Metropolitan Opera, support local organizations safely from your home." A bunch of listings here.
Hypebae: 'Vogue Italia' Grants 3 Months Of Free Access To Its Online Archives. "Through June 13, Vogue Italia has opened its digital archive of every issue from 1964 to the present. Every page is scanned in high-resolution color, and the archive's advanced indexing system allows users to search images by designer, photographer, brand and more."
Expats CZ: The Czech National Library has made its 206,000-title archive available online for free. "Temporary online access to the collections of the National Library and public higher-education institutions has been granted to the public on Tuesday, March 17. General Director of the National Library, Martin Kocanda and Jiří Srstka, the Director of the Collective Copyright Association (DILIA), reached the decision on Monday morning. More than 206,000 titles of monographs and periodicals will be made available online, representing over 59 million pages."
RadioTimes: BBC to bring classic TV and radio back to iPlayer "in unprecedented times". "The BBC has announced it will make classic TV box-sets and radio programmes available on iPlayer as part of a wide-ranging set of measures to help the nation through "challenging times" as the coronavirus pandemic continues."
NBC Sports: How you can watch every Eagles game of last decade for free. "Through May 31, NFL Game Pass will be free for all fans. If you're not familiar with NFL Game Pass, it's basically the NFL's online library of every NFL game. It includes all games from 2009-19 and multiple versions. Those versions include the full broadcast, condensed games and even All-22 access if you want to break down some film."
Digiday: Publishers are unlocking fitness classes for people stuck at home. "Unlocking paid online fitness classes may seem like a strange move when the only option for most people is to work out at home. But some fitness and wellness publishers have done exactly that."
The National: The show goes online: where to stream live concerts and operas. "A growing number of artists, ensembles and orchestras are migrating online for free performances – ranging from intimate bedroom jams to full orchestral concerts in empty theatres – to provide healing through music during challenging times. Leading the charge in the region is The Fridge. Known for its concert season, held in Al Quoz, the events company is taking their shows on the virtual road and have announced that its 22nd season will all be streamed online." A lot of Middle Eastern and European artists I had not seen elsewhere.
Attitude: Cancelled BFI Flare Goes Online With 230 Films, And We Are Pumped. "Some cinema lovers are already stuck at home over the coming weeks due to the Corona Virus pandemic, which forced the BFI Flare London LGBTIQ+ Film Festival due to start yesterday [18 March] to cancel. But in great news for queer film fans everywhere, the festival will now become BFI Flare at Home."
Lowyat: Scribd Makes Entire Digital Library Of eBooks And AudioBooks Free For A Month. "Scribd, the US-based ebook and audiobook subscription service, announced that it is making its entire digital library free for everyone to access for the next 30 days. As you can guess, one of the main reasons the company is making its content accessible is to provide individuals who are self-quarantining or working from due to the ongoing Coronavirus (COVID-19) health issue."
UPDATES
Vice: Google Is Putting Amazon Prime Ads on Russia-Backed Sites Spreading Coronavirus Conspiracies. "New research by the Global Disinformation Network has revealed that 1,400 fake news websites spreading coronavirus conspiracy theories across Europe have been funded to the tune of $76 million by ad tech companies — with more than 60% of the revenue coming from Google alone. Many of those websites are linked to the Kremlin or directly funded by the Russian government."
Neowin: Google pauses Chrome releases to keep it stable. "Typically, a new update for Chrome and Chrome OS arrives every six weeks, but Google is temporarily halting new releases. The reason is to keep things 'stable, secure, and reliable' for all of the folks that are working from home due to the COVID-19 coronavirus."
Techdirt: Social Media Promised To Block Covid-19 Misinformation; But They're Also Blocking Legit Info Too. "Sing it with me, folks: content moderation is impossible to do well at scale. Over the last few weeks, all of the big social media platforms have talked about their intense efforts to block misinformation about Covid-19. It appeared to be something of an all hands on deck situation for employees (mostly working from home) at these companies. Indeed, earlier this week, Facebook, Google, Linkedin, Microsoft, Reddit, Twitter, and YouTube all released a joint statement about how they're working together to fight Covid-19 misinformation, and hoping other platforms would join in. However, battling misinformation is not always so easy — as Facebook discovered yesterday."
Bing Blogs: Stay informed on the coronavirus pandemic with Bing and Microsoft News. "Simply search for 'covid19', 'coronavirus information', or a related term, and you'll find a tally of the cases in your geographic region as well as an up-to-date summary of global cases. This information is aggregated across multiple sources such as the Center for Disease Control, the World Health Organization, and other authoritative sources. As the situation is changing rapidly, we're refreshing the data multiple times per day, and show a timestamp for when we published the latest available data."
SOCIETAL IMPACT
Las Vegas Review-Journal: Las Vegas strip club to offer drive-thru peep shows. "Little Darlings strip club will begin offering drive-through strip shows for those who want to indulge in some adult entertainment, but do not want to enter the building, as the Centers for Disease Control and Prevention is recommending people keep 6 feet in distance between themselves and others."
Digital Trends: Spanish police are using drones to scold citizens who go outside. "While the majority of people are taking social distancing and shelter-in-place orders seriously, some aren't, and police in Spain have adopted a new tool to help convince those people to stay indoors: Drones."
KMIZ: With Cincinnati Zoo closed, Fiona the hippo goes online. "Fiona, the three-year-old hippo who became a worldwide celebrity when she was born at a record-breaking low weight of 29 pounds and managed to survive against the odds, will kick off a series of "Home Safari" livestreams from the Ohio zoo."
The New York Times: Without Places to Gather, Debut Novelists Reimagine Book Promotion. "For many first-time novelists, years of hard work (and often solitary time) culminate in seeing their book come into the world: going to festivals and bookstores to read sections aloud and connecting with readers face to face, inhabiting with others the worlds they built. But with social distancing guidelines discouraging gatherings of more than 10 people, publishing a debut has changed in ways that authors couldn't have foreseen just a few weeks ago. We spoke to several debut novelists about their books, their plans to promote their work and their days during this unusual time."
LADBible: Musicians Are Playing Mini Concerts On Social Media For People. "The coronavirus has caused some of the biggest music festivals around the world to cancel or postpone. Artists have suspended their world or national tours, leaving many fans reeling that they won't be able to see their favourite act up close and personal. But some of these mega celebrities have decided to give people a show on social media instead."
Vogue: "Stay Safe and Strong, Love You": How 15 Designers Are Spreading Digital Messages of Hope During the Coronavirus Crisis. "In the fashion community, many designers and founders of independent labels are feeling the angst of social distancing too. Like all of us, they feel sad, frightened, and stuck, but still motivated to make change. Many have taken to Instagram to speak out about the effects of the virus and the uphill battle that we all still have in the fight against it. Their storefronts are closing and their businesses are more than likely declining, but many, including Cate Holstein, Kerby Jean-Raymond, Simon Porte Jacquemus, and Brandon Maxwell are staying positive via social media."
BBC: US jails begin releasing prisoners to stem Covid-19 infections. "US jails are to let out inmates as cases of coronavirus infections are being reported in prisons. New York City is releasing 'vulnerable' prisoners, the mayor said on Wednesday, days after Los Angeles and Cleveland freed hundreds of inmates."
BBC: Coronavirus protest in Brazil sees millions bang pots from balconies. "People in Brazil have expressed anger at President Jair Bolsonaro's handling of the coronavirus pandemic by banging pots and pans together on balconies. Millions of protesters in the cities of São Paulo and Rio de Janeiro appeared at windows on Wednesday evening calling for the president to step down."
RESEARCH
Slate: Coronavirus Diaries: I'm a Biologist in Milan Working Nonstop to Understand COVID-19. "On Feb. 21, COVID-19 broke into our laboratory and turned everything upside down. It was supposed to be a day like any other, but nothing goes as planned anymore. That afternoon, we should have gone to the graduation of a student who did his thesis with us, but in the end only one colleague of mine went. The rest of us immediately put our heads down and started working on the virus."
FUNNY
Geeks are Sexy: Thank God For the Motherf*cking Nerds Right Now – A Rap Homage to Coronavirus Fighters. "In these surreal, frightening times, I've been realizing more than ever how helplessly reliant and dependent I am, as a non-smart person, on all the incredibly intelligent, hard-working professionals who've dedicated their lives to becoming experts in their respective fields. To the doctors, healthcare workers, epidemiologists, immunologists, microbiologists, and all the other 'ists,' we would be F&#ked without you." As you might imagine, lots of swearing.
Insider: This online calculator tells you exactly how much toilet roll you actually need to buy. "London web developer Dave Stewart created online and mobile app Got Paper? in 24 hours over the past weekend in an attempt to solve a human problem while adding a bit of British humor into the mix."
POLITICS AND SECURITY
ZDNet: Thousands of COVID-19 scam and malware sites are being created on a daily basis. "In the midst of a global coronavirus (COVID-19) pandemic, hackers are not letting a disaster go to waste and have now automated their coronavirus-related scams to industrial levels. According to multiple reports, cybercriminals are now creating and putting out thousands of coronavirus-related websites on a daily basis."
The Siasat Daily: 2 US Senators slam Google for face mask ads. "Two Democratic senators have slammed Google for allowing face mask-selling ads on its platform, asking the US Federal Trade Commission (FTC) to pursue enforcement action against the tech giant."
BetaNews: Hackers using COVID-19 specials to drum up business on the dark web. "We all know that hackers and cybercriminals are keen to cash in on any opportunity to spread their wares. Researchers at Check Point have uncovered that hackers are using COVID-19 to offer specials and discounts on the dark net."
CoronaBuzz is brought to you by ResearchBuzz. I love your comments, I love your site suggestions, and I love you. Feel free to comment, send resource suggestions, or tag @buzz_corona on Twitter. Thanks!
The news stories these days are full of articles about the Coronavirus (COVID-19) infections. I won't repeat them here, but I will point out that this is nothing new. Our ancestors frequently suffered with similar and often much worse epidemics.
About a month ago, before the Coronavirus had become much of a problem in the US, I published a Plus Edition article entitled Epidemics. In the introduction, I wrote:
"Our ancestors lived in fear of epidemics, and many of them died as the result of simple diseases that could be cured today with an injection or a prescription.
"If you ever wondered why a large number of your ancestors disappeared during a certain period in history, you may want to investigate the possibility of an epidemic. Many cases of people disappearing from records can be traced to dying during an epidemic or moving away from the affected area."
You can read that article at https://eognplus.com/2020/02/24/epidemics/. A Plus Edition user name and password are required to read it.
Of course, one of the more recent epidemics ("only" 102 years ago) was the Spanish Flu epidemic of 1918-1920. It infected 500 million people around the world, or about 27% of the world population of between 1.8 and 1.9 billion. The death toll is estimated to have been anywhere from 17 million to 50 million, and possibly as high as 100 million, making it one of the deadliest epidemics in human history. Some historians and epidemiologists have theorized that the flu originated in Kansas while others believe it started in the close quarters of the trenches and military encampments of World War I. Whatever the origins, the Spanish Flu quickly spread worldwide.
Then as now, the virus showed no favoritism. After a one-day illness, on 30 May 1918, Donald Trump's grandfather, Frederick Trump (or  Friedrich Trumpf in the original German) succumbed to a case of pneumonia that would later be identified as a complication of the "Spanish flu." In fact, the President's grandfather was one of the first domestic casualties of the world's worst modern pandemic, which ultimately killed millions.
Reference: https://en.wikipedia.org/wiki/Frederick_Trump
The death toll from the Spanish Flu was undoubtedly worsened by the efforts of President Woodrow Wilson's administration to talk down the health risk. Even President Wilson could not avoid the contagious disease; he became ill in the midst of the World War I peace talks held in Paris. In April 1919, Rear Admiral Cary T. Grayson, personal physician to the President, wrote to a friend, explaining that: "These past two weeks have certainly been strenuous days for me. The President was suddenly taken violently sick with the influenza at a time when the whole of civilization seemed to be in the balance."
The extent of President Wilson's illness was not revealed to the American people, however. Instead, to maintain confidence in the President, Grayson informed the press that it was merely a cold caused by the "chilly and rainy weather" in Paris.
Sound familiar?
An interesting history of the Spanish Flu, as observed in Chicago, can be found in an article in the Chicago and Cook County Cemeteries web site at: https://chicagoandcookcountycemeteries.com/2020/03/15/bring-out-your-dead-chicagos-1918-flu-epidemic/.
The article provides an interesting historical perspective of the experiences of our ancestors in the days before penicillin and other modern drugs.
Over 8,000 Chicagoans died in a matter of months despite signs placed in theaters, streetcars and elevated trains to warn against the danger of spitting, coughing, and sneezing. Undertakers and cemeteries were overwhelmed. There were orders that wake attendance be limited to 10 people at a time. Public funerals were totally prohibited for a time.
Yes, life and death from diseases and viruses is not a modern peril. In fact, it was far worse in "the good old days."
This newsletter now has its own Twitter account at @buzz_corona , if you want to see individual items as they're added. I'm only doing one of these newsletters a day so they're going to be enormous. Wash your hands. I love you.
NEW RESOURCES
WAFF: Scholastic creates free, digital hub for students disrupted by coronavirus . "As school closures increase nationwide due to the spread of coronavirus, there is an unprecedented need for supporting our teachers, children, and families in learning. Scholastic has curated a free digital learning hub designed to support virtual learning plans: Scholastic Learn At Home allows open access to daily learning journeys divided into four grade spans—Pre-K–K, Grades 1–2, Grades 3–5, and Grades 6–9+, covering ELA, STEM, Science, Social Studies, and Social-Emotional Learning."
MIT Technology Review: Over 24,000 coronavirus research papers are now available in one place."The news: Today researchers collaborating across several organizations released the Covid-19 Open Research Dataset (CORD-19), which includes over 24,000 research papers from peer-reviewed journals as well as sources like bioRxiv and medRxiv (websites where scientists can post non-peer-reviewed preprint papers). The research covers SARS-CoV-2 (the scientific name for the coronavirus), Covid-19 (the scientific name for the disease), and the coronavirus group."
WBIR: 'Stay vigilant' | Better Business Bureau announces new website for COVID-19 scams. "The Better Business Bureau started a new website to tackle COVID-19 scams. As the virus spreads, scams related to the virus are becoming more common: price-gouging, travel scams and more."
KPEL: LA Dept Of Health 'Heat Map' Shows Latest COVID-19 Numbers. "A new tool aims to inform the public of the spread of COVID-19 as state health officials work to contain it. The interactive map from the Louisiana Department of Health shows where cases have been confirmed and how many active cases there are."
Religion News Service: New website shares lists of multi-faith online worship services during pandemic. "The Online Faith Collective was announced Friday and launched Saturday, with dozens of faith communities sharing their worship services – and more are flooding in. 'With the new reality of closings, faith leaders are finding ways to reach out safely to support and grow their communities through online worship,' said Rev. Marian Edmonds-Allen, creator of the project."
USEFUL STUFF
Chambanamoms: 300+ Resources to Keep Kids Entertained and Learning – Online and Off. "Some of them are explicitly learning tools or curricula; others are more along the lines of educational entertainment. (Since we have not personally vetted each resource, the boundary separating learning from entertainment can be pretty difficult to pin down.) We've included separate categories for toddler specific activities, for middle/high school audiences, for non-screen indoor activities, for therapy resources, and even a whole category just for online tours. And our final category will help kids get moving while they are stuck indoors (or even outdoors)." Extensive, growing list with tons of stuff I haven't seen anywhere else. Good.
Cambridge University Press: Cambridge University Press increases coronavirus support for academic customers. "Cambridge University Press is offering free, online access to higher education textbooks and coronavirus research during the COVID-19 outbreak. In addition, existing customers are being offered free access to key reference works on request to help them overcome the disruption caused by the global response to the pandemic. All 700 textbooks published and currently available in HTML format on Cambridge Core – the online home of academic books and journals – are available regardless of whether textbooks were previously purchased."
Cyberbulling Research Center: Coronavirus, Online Learning, Social Isolation, and Cyberbullying: How To Support Our Students. "My university was quick to mandate that professors move all instruction and interaction online, and we know by now that most universities across America have done the same. School districts as well have followed en masse. This is absolutely the right thing to do. But I was just talking with my colleague Randy Ross over at the National School Climate Center about how there will likely be some unintended consequences here which merit our attention and response."
CNET: Coronavirus alerts: How to get news updates on your phone right now. "You can use sources such as Twitter, Google Alerts and your favorite news sites to receive updates and notifications about where the coronavirus is and what you can do to help keep yourself and your community safe. You can also sign up for text alerts to receive information about how many cases are in your area and what's closing down, like schools and churches. Read on to learn how to set up for alerts about coronavirus developments." Basics for most of y'all but might be useful for less tech-savvy people.
News-Press: Florida small businesses impacted by coronavirus can now apply for interest-free loans. "Gov. Ron DeSantis on Monday announced the activation of the Florida Small Business Emergency Bridge Loan Program. Florida small businesses with two to 100 employees that suffered an economic loss can apply for up to a $50,000, interest-free loan with a one-year term. The application period runs through May 8."
Popular Photography: Adobe offering free Creative Cloud tools for students impacted by Coronavirus through May 31. "Through May 31, higher-education and K-12 customers who currently use the Creative Cloud apps through computers in on-campus labs will be able to request temporary at-home access for no additional fee. The request will need to be made by an IT admin though. Details to make the changes can be found here. As educators and students transition to a long-distance learning experience Adobe is also offering a number of curated resources to help educators tailor their curriculum to an out-of-classroom experience."
Inoreader Blog: Get Free Local COVID-19 Alerts with Inoreader. "We have combined 3 of our best Pro features together for a custom solution that will keep you updated about new cases in your region, new measures from local government bodies, and other critical updates. To begin just click the new orange notification in the sidebar." Great resource if you're looking for news in a country you're unfamiliar with.
PopSugar: 36 Free Educational Websites Parents Can Access While Schools Are Closed. "With a lot of schools shut down for the foreseeable future due to the coronavirus outbreak, many parents are finding themselves at home trying to juggle their jobs with raising their kids, which for now includes providing education as well. Although many teachers have sent home work so kids don't fall behind and some schools are conducting classes online, there's also a slew of free educational websites and apps at parents' disposal."
UPDATES
Reuters: Social media giants warn of AI moderation errors as coronavirus empties offices. "Alphabet Inc's YouTube, Facebook Inc (FB.O) and Twitter Inc (TWTR.N) warned on Monday that more videos and other content could be erroneously removed for policy violations, as the companies empty offices and rely on automated takedown software during the coronavirus pandemic."
Times of Oman: New Twitter account for unified updates of COVID-19 in Oman. "The Government Communication Center (GCC) has launched a new Twitter account to update the latest developments in Oman's fight against COVID-19."
SOCIETAL IMPACT
Which-50: How Hyper-Local Social Media Platforms And AI Are Assisting COVID-19 Prevention Efforts. "As concerns over the coronavirus pandemic grow, Australians are banding together on social platforms to share resources and mitigate the challenges of self-isolation. Medical authorities are also leveraging the platforms to disseminate information more quickly and credibly than in the past."
The Conversation AU: Why haven't the Olympics been cancelled from coronavirus? That's the A$20bn question. "The IOC has also remained resolute the games will go ahead on the scheduled start date of July 24. However, it has scheduled emergency talks with international sporting bodies this week to discuss the actions being taken to respond to the crisis. This is not a decision to take lightly. Cancelling the Tokyo Games would, by some estimates, reduce Japan's annual GDP growth by 1.4%."
BBC: L Devine: 'Coronavirus delayed my tour so I'm touring on social media instead'. "L Devine isn't the only artist to offer fans an alternative to cancelled or postponed shows. YungBlud streamed a gig on YouTube followed by a live chat, featuring Machine Gun Kelly and Bella Thorne. He encouraged over 200,000 viewers to send pictures of themselves during the set."
Good Morning America: #Quarantinelife trending across social media. "Welcome to #QuarantineLife. As millions of Americans begin adjusting to staying at home for at least the next several weeks, the hashtag "QuarantineLife" was the top trending topic on Twitter Monday morning."
New York Times: The Coronavirus Crisis Is Showing Us How to Live Online. "I expected my first week of social distancing to feel, well, distant. But I've been more connected than ever. My inboxes are full of invitations to digital events — Zoom art classes, Skype book clubs, Periscope jam sessions. Strangers and subject-matter experts are sharing relevant and timely information about the virus on social media, and organizing ways to help struggling people and small businesses. On my feeds, trolls are few and far between, and misinformation is quickly being fact-checked."
CNN: Luxury perfume makers Dior and Givenchy will produce free hand sanitizer for French health authorities. "Luxury goods conglomerate LVMH, the parent company of Christian Dior, Guerlain and Givenchy, wants to help French health authorities by manufacturing hand sanitizer and providing it to them for free. LVMH said it will use all the production facilities of its perfumes and cosmetics brands to produce large quantities of hydroalcoholic gel, or hand sanitizer, starting Monday."
Chemist+Druggist: Simon Dukes: Coronavirus may lead to permanent pharmacy closures. "Financial pressures caused by COVID-19 may cause pharmacies to close permanently unless the government provides a funding boost, PSNC chief executive Simon Dukes has said. The coronavirus outbreak could mean that pharmacies closing due to staff sickness "may not open again", the Pharmaceutical Services Negotiating Committee (PSNC) chief executive said on BBC Radio 4's Today programme this morning (March 16)."
MyLondon: Iceland in Crawley dedicates exclusive shopping slot for elderly amid coronavirus outbreak. "Some Iceland stores across the UK will have dedicated opening hours for the elderly and more vulnerable shoppers to buy their products following the coronavirus outbreak. Iceland said it was not a company-wide policy, but it was allowing individual stores to decide how best to meet the needs of shoppers in their local areas."
RESEARCH
South China Morning Post: Chinese government launches new tech database to help communities fight the coronavirus."The Chinese government is compiling a database of technologies that can be used to combat the novel coronavirus after its top leadership highlighted the increasing importance of tech in bringing the disease under control at home. Officials have compiled a list of more than 2,000 'new technologies' and their providers, ranging from automatic temperature detection to diagnosis and hospital information systems, according to a post by the Ministry of Science and Technology on Monday."
AP: AP Exclusive: Coronavirus Vaccine Test Opens With 1st Doses. "With careful jabs in the arms of four healthy volunteers, scientists at the Kaiser Permanente Washington Research Institute in Seattle began an anxiously awaited first-stage study of a potential COVID-19 vaccine developed in record time after the new virus exploded out of China and fanned out across the globe."
Stanford News: People's uncertainty about the novel coronavirus can lead them to believe misinformation, says Stanford scholar. "As people increasingly social distance themselves to prevent the spread of the novel coronavirus, social media is an appealing way to stay in contact with friends, family and colleagues. But it can also be a source of misinformation and bad advice – some of it even dangerously wrong."
POLITICS AND SECURITY
CNN: A coronavirus patient refused to quarantine, so deputies are surrounding his house to force him to. "A Kentucky novel coronavirus patient checked himself out of the hospital against medical advice. So to prevent him from spreading the virus, officials are surrounding his house to keep him there. The 53-year-old man in Nelson County refused to quarantine himself after testing positive for Covid-19, Kentucky Gov. Andy Beshear said."
CoronaBuzz is brought to you by ResearchBuzz. I love your comments, I love your site suggestions, and I love you. Feel free to comment, send resource suggestions, or tag @buzz_corona on Twitter. Thanks!
Here are the highlights of my family history and genealogy related activities over the past week:
1) Attended the Chula Vista Genealogical Society Board Meeting on Wednesday and reported on the Research Group, DNA Interest Group and Newsletter activities. Wrote, edited, published, and distributed the March 2020 edition of the CVGS Newsletter.
2) Watched the Wednesday and Friday keynote sessions from RootsTech, plus two of the livestreamed classes.
5) Added Notes to about 15 more AncestryDNA matches with cM values, relationships and known common ancestors, and added four ThruLines to the RootsMagic family tree database. Reviewed new DNA matches on AncestryDNA, MyHeritageDNA, FamilyTreeDNA and 23andMe.
6) There were several sessions working in the RootsMagic software program to match with and update FamilySearch Family Tree profiles for Seaver families and my ancestral families, with occasional additions to the RootsMagic profiles.

I have matched 34,54 of my RootsMagic persons with FamilySearch Family Tree profiles (up 50).
7) Used Web Hints and Record Matches from Ancestry, MyHeritage, Findmypast and FamilySearch to add content and sources to my RootsMagic profiles.

I now have 56,355 persons in my RootsMagic file (up 110) , and 116,954 source citations (up 464). I TreeShared two times this week updating 231 profiles, and I resolved 907 Ancestry Hints. I've fallen behind on the Ancestry Record Hints with 125,598 to be resolved, but I work on them weekly.
=============================================

The URL for this post is:
Copyright (c) 2020, Randall J. Seaver

Please comment on this post on the website by clicking the URL above and then the "Comments" link at the bottom of each post. Share it on Twitter, Facebook, or Pinterest using the icons below. Or contact me by email at randy.seaver@gmail.com.
Genetic, geographic, and demographic data from more than 30,000 Americans reveal more genetic diversity within ancestry groups than previously thought.
The following is a press release written by the Broad Institute of MIT and Harvard:
Studies of DNA from ancient human fossils have helped scientists to trace human migration routes around the world thousands of years ago. But can modern DNA tell us anything about more recent movements, especially in an ancestrally diverse melting pot like the United States?
To find out, researchers from the Broad Institute of MIT and Harvard, Massachusetts General Hospital (MGH), and Massachusetts Institute of Technology (MIT) analyzed data provided by more than 32,000 Americans as part of the National Geographic Society's Genographic Project. This project, launched in 2005, asked Americans to provide their DNA along with their geographic and demographic data, including birth records and family histories, to learn more about human migration.
The research team found distinct genetic traces within many American populations that reflect the nation's complicated history of immigration, migration, and mixture.
Writing in the American Journal of Human Genetics, the team also reported subtle but potentially important levels of diversity within certain groups, such as the Hispanic population.
They also call on genetics researchers to increase the ancestral diversity of the participants in their studies so that their findings capture more of the genetic diversity in US populations. This will help ensure that precision medicine will benefit as many people as possible in the US.
"Understanding the genetic structure of the US is important because it helps illuminate distinctions between populations that studies might not otherwise account for," said Alicia Martin, a geneticist in the Broad Institute's Program in Medical and Population Genetics, a research fellow in MGH's Analytical and Translational Genetics Unit, and co-senior author of the study with Carlo Ratti, director of MIT's Senseable City Lab. "If we want genetic technologies to benefit everyone, we need to rethink our current approach for genetic studies because at the moment, they typically miss a huge swath of American diversity."
Martin, Ratti, and their colleagues, including study first author Chengzhen Dai of MIT's Department of Electrical Engineering and Computer Science, partnered with the Genographic project because they wanted to understand the geographic patterns of genetic ancestry and admixture across the US over time, and learn how much people's genetics across the US reflect historic demographic events.
Some findings caught the researchers by surprise. For instance, their analysis revealed a striking diversity in the geographic origins of participants who identified as Hispanic or Latino. The genetic patterns of these participants indicated a complex mixture of European, African, and Native American ancestries that varied widely depending on where participants lived, whether they were in California, Texas or Florida, for example.
Results like this, Martin noted, could hold implications for precision medicine as it becomes available to more and more Americans.
"There are subtle genetic differences within ancestry groups that arise from their population history," she said. "Those differences will be important but challenging to account for, especially as genetic testing is used by more diverse groups of patients than have been studied so far."
Happy DNA Day! Today (25 April) is the anniversary of the publication of articles theorizing the helical structure of DNA. Ancestry is celebrating with a 20% sale on its DNA kit. (Thomas MacEntee has put together a list.) Normally priced $99, Ancestry is offering the kit for $79 (plus taxes and shipping) through 26 April 2017 at 11:59pm Eastern Time. While I sometimes see a $89 sale price, I don't recall seeing the $79 price since DNA Day last year. After Thanksgiving the past couple years they have offered the kit for $69. It seems likely they will do the same this year. At RootsTech this year they were trying to overshadow the announcement of kits from other vendors by selling AncestryDNA for $49 (with no shipping since you purchased in-person). I don't know that you will ever see that happen again.
Bottom line, if you aren't willing to wait until after Thanksgiving, today's the day to order AncestryDNA for $79.
To see what scientists, teachers, and students are doing to commemorate DNA Day, visit the National Genome Research Institute website.
Click here to order AncestryDNA for $79.
Don Hagist, author of British Soldiers, American War and editor of the Journal of the American Revolution, is my go-to advisor on British military records.

Every so often Don unearths a new gem of information about redcoats who served in Massachusetts, such as the record of Edward Montgomery and Mathew Kilroy, the two privates convicted of manslaughter after the Boston Massacre, retiring in 1776 just before the 29th Regiment was sent back to North America.

Now as a guest blogger Don shares another new discovery about a soldier prominent in Boston 250 years ago: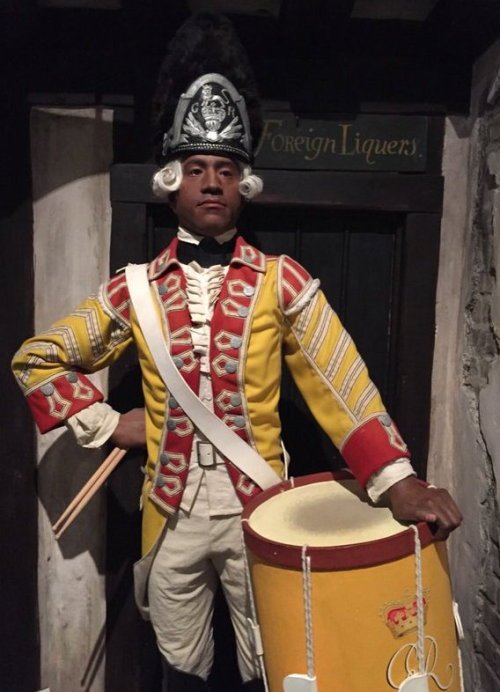 In the months leading up to the Boston Massacre, a number of altercations occurred between soldiers of the 14th and 29th Regiments of Foot and civilians in Boston. One of the best-known soldiers involved in these scuffles was Thomas Walker, a drummer in the 29th Regiment.
The 29th's drummers were of African heritage, but those those whose place of birth is known were born in the Caribbean—Jamaica, St. Kitts, St. Domingo, Antigua. The first of them joined the regiment in 1759 and were replaced by others as attrition demanded, well into the nineteenth century.
The earliest surviving muster rolls for the regiment indicate that Walker was already serving as a drummer in 1765. He was a key player in the fighting that occurred at the ropewalks in Boston on March 1, 1770. He is frequently mentioned in this context, but what about his subsequent career?
The 29th Regiment was removed from Boston soon after the events of March 5, 1770, and after a few more years in other American colonies they returned to Great Britain. Their stay in the home islands was not long, though; the outbreak of war in American necessitated a significant military buildup there, and in early 1776 the 29th Regiment was ordered overseas once more.
As a drummer in the regiment's grenadier company, Walker may have been among the first ashore when the regiment landed in Quebec in June 1776 to relieve the besieged city. With several other regiments, they drove American forces out of Canada and up Lake Champlain. Walker may have been among the 29th's soldiers that served on board British ships and gunboats at the battle of Valcour Island in October.
After spending a cold Canadian winter dispersed in various locations between Quebec and the northern end of Lake Champlain, the British army regrouped for a new campaign in 1777. While most of the 29th Regiment remained in Canada, their light infantry company and grenadier company, including Thomas Walker, went with the army under General John Burgoyne up Lake Champlain. The grenadier battalion, formed of grenadier companies from ten regiments, was involved in some of the campaign's hottest fighting including the battles of Hubbardton, Freeman's Farm and Bemis Heights. The campaign ground to a halt in October and Burgoyne's army capitulated in October. Thomas Walker became a prisoner of war.
The prisoners were marched to the outskirts of Boston where they spent the winter in crude barracks on Winter Hill and Prospect Hill. From here Walker had a good view of the city where he had spent two years almost a decade before. The following summer the prisoners were moved inland to Rutland, Massachusetts. In November they were marched Albemarle, Virginia, where they arrived in the January snow for two more years in poorly-constructed barracks.
British campaigning in Virginia in 1781 provoked yet another overland march for the beleaguered prisoners, this time to Lancaster, Pennsylvania. The prisoners arrived there on June 16. Since their capture in 1777, they had walked over 1,000 miles from prison camp to prison camp. By this time, only four men of the 29th Regiment's grenadier company remained, the others having escaped, deserted, or died.
Thomas Walker got to Lancaster, but his time had run out; by the time a list was made of the prisoners, on July 18, Drummer Thomas Walker was "dead in the Barracks." The cause of his demise is not known. Dying in captivity was a sad end for a man who had served as a soldier for over sixteen years.
I'm struck by how Drummer Walker remained with his dwindling company, not escaping and deserting. As a black man, he may have seen fewer opportunities to move around in American society. And he may have commanded more respect as an army drummer than he expected as an unattached black laborer.

Thanks again, Don!